During India's recent electoral campaign, Narendra Modi repeatedly highlighted his achievement of providing a round-the-clock power supply to the people of Gujarat, the western Indian state he governed for more than a decade. Now as Prime Minister, Modi faces the challenge of fixing India's crumbling energy infrastructure.
Some 75 million households in this vast nation lack access to electricity, particularly in rural areas. And those that are fortunate enough to be connected to the grid are regularly forced to bear the brunt of power cuts and blackouts, due to India's largely outdated and overburdened grid network.
Mark Williams, chief Asia economist at the research consultancy firm Capital Economics, says that successive governments have struggled to build infrastructure to meet India's growing energy needs because an array of factors ranging from "severe delays over acquisition of land for power projects, concerns about corruption and a lack of focus on the issue among officials."
Coal's primacy
According to the Paris-based International Energy Agency (IEA), government approvals are the "greatest barrier" for the expansion of electricity production capacity in India.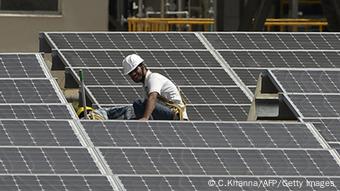 As part of its clean energy policies, India aims to generate 20,000 MW of solar power by 2020
Another issue underpinning the country's energy troubles is its heavy reliance on coal. Around 59 percent of the power is generated by burning the fossil fuel. Under normal conditions, this shouldn't be a problem as the South Asian nation is home to one of the largest stockpiles of coal.
But despite being the world's third largest producer, the country is unable to meet its coal-fired power stations' demand for the raw material. Claims of graft related to the allocation of coal blocks to mining companies have further depressed domestic production. The country had to import some 165 million tons of coal in the fiscal year to March 2014, thus contributing significantly to its current account deficit.
Indian companies have also been venturing abroad in their efforts to secure coal supplies. For instance, on July 28 Australia gave its approval for Indian firm Adani to develop a massive coal mine in Queensland State, a project that is estimated to be worth 15.5 billion USD. It is expected to ultimately provide electricity for up to 100 million people in India.
Increasing demand
Experts say India's cumbersome regulations as well as under-investment in transmission and distribution networks are the reason for the inefficacy of its power sector. Rob Dobson, senior economist at the market research group Markit Economics, says that in the short term there should be "increased investment in the coal industry, in order to remove bottlenecks and raise the coal production." But the long-term solution is to invest in new sources of energy production to reduce the reliance on coal-based production, he added.
At present the contribution of other sources such as hydro and nuclear power to India's energy mix is relatively small, amounting to some 17 percent and two percent, respectively.
Although the previous government led by former Prime Minister Manmohan Singh signed a civilian nuclear agreement with the US in 2008, hailed as a landmark deal that ended India's nuclear isolation, it has so far not resulted in any new addition of nuclear power capacity.
India also has lofty ambitions when it comes to harnessing renewable energy sources - particularly solar - for power production. The country aims to generate 20,000 MW of solar power by 2020. But it still has a long way to go to realize this goal and reduce its dependence on fossil fuels. In the meanwhile, there are concerns that the gap between electricity supply and demand will further widen as a growing population and an expanding economy consume increasing amounts of energy.
A crucial factor
The resulting shortfall could lead to increased power blackouts of the kind seen a couple of years ago, when more than half of the country was left without electricity due to several states drawing power which exceeded the allocated limits.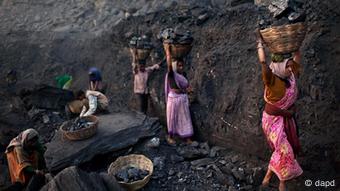 Around 59 percent of the power in India is generated by burning the fossil fuel coal
Energy is also crucial for the country's attempts at becoming a manufacturing hub. Industrial firms wanting to operate in India "prefer to build their own power facilities so as not to be at the mercy of the electric grid," Williams told DW. But this is expensive and does not isolate them from problems similar to those faced by electricity suppliers and distributors, he added.
Dobson points out that India has an ideal geographical location, abundant supplies of coal, skill base and a large labor force, which are "real attractions as a manufacturing location."
However, the economist underlines that the country's efforts to move into heavier and higher value added industries are likely to be "stymied as these sectors depend on a reliable and cost effective source of energy." Boosting electricity capacity and distribution will be important for India to fulfill its potential as a manufacturing hub and move up the value added chain.