On the second day of his visit to Spain, Pope Benedict XVI led a service recalling Christ's crucifixion, and sins including sexual abuse against children.
More than a million pilgrims have gathered in the Spanish capital Madrid to celebrate World Youth Day from August 16-21.
The pope held a service in the city's Plaza Cibeles marking the torments of Christ's crucifixion and his resurrection. It was a solemn moment in the otherwise party-like atmosphere of the international Catholic youth gathering.
But protests broke out not far away as some vented their anger about the cost of the pope's visit at a time of economic uncertainty for Spain, where more than 45 percent of people aged aged 18-25 are out of work. The cost of hosting the celebrations is estimated to be over 50 million euros ($70 million).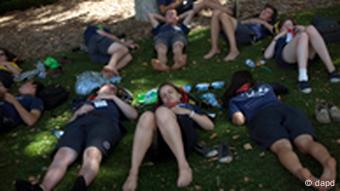 Over a million young Catholics have gathered in Madrid
Some 3,000 demonstrators marched from Madrid's central station towards Puerta del Sol square on Friday evening. But police had blocked access to the square, after clashes occurred during similar protests on Wednesday and Thursday night.
Solemn procession
The Pope's second day in Spain culminated with a Way of the Cross procession in central Madrid, during which prayers were read for different sectors of society that were suffering.
"Jesus suffers with all those who are victims of human genocide where brutal violence explodes, or victims of rape and sexual abuse, the crimes against children and adults," the prayer read.
Silence fell as representatives of different countries and social groups - including unemployed young people and those who suffer persecution for their beliefs - took it in turn to carry a plain wooden cross, representing the one on which Christ was crucified.
Statues and sculptures normally reserved for Spain's world-famous Holy Week processions also lined the route.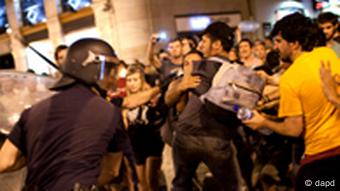 Protesters are angry at the cost of the Pope's visit
The prayers, written by Spanish nuns for the occasion, reflected the pain and scandal the Catholic Church has experienced in the recent years over disclosures that priests had sexually abused children in Europe and the United States.
The pontiff has apologized for sexual abuse by priests but victims groups say the Vatican has not done enough to bring the guilty to justice.
Criticism of today's world
Earlier in the day, Benedict spoke to more than 1,000 nuns outside a 16th-century monastery and defended Christianity as a bulwark against "relativism and mediocrity." He bemoaned "an eclipse of God" in the modern world.
On Saturday evening, gay activists in Madrid plan to stage a protest in defense of same-sex partnerships. Under Socialist Prime Minister Jose Luis Rodriguez Zapatero, Spain became the third country in the world to legalize gay marriage in 2005 - a move that put Madrid on a collision course with the Catholic Church.
Also on Saturday, the 84-year-old pontiff plans to hold a "Prayer Vigil" at an airbase southwest of the city, where pilgrims will spend the night under the stars.
Author: Joanna Impey (AFP, dpa, Reuters)
Editor: Toma Tasovac