Pope Benedict XVI urged Spain to preserve its Christian heritage during a visit to the Spanish capital Thursday as part of the World Youth Day celebrations. Spain's Christian identity was a "great treasure" which should be "cared for constructively," the pontiff said.
But the pope's taxpayer-funded trip to Madrid has stirred much anger in a country where the economy is floundering and 40 percent of youth have no jobs.
Around 5,000 people turned out on Madrid's streets late Wednesday to protest the pope's arrival for the six-day youth festival. The demonstrators included members of secularist, feminist, gay and lesbian, alternative Christian and leftist groups.
"More jobs and less crucifixes," was among the slogans displayed by the protesters. Others chanted, "The pope's visit, not with my taxes."
Although the government in predominantly Catholic Spain has not released the exact cost of the pope's visit, church critics say it will cost around 50 million euros ($72 million) to accommodate him.
Catholic groups turned out in Madrid to counter the anti-papal marches, with pilgrims shouting "hallelujah" as riot police kept the two crowds apart.
Tight times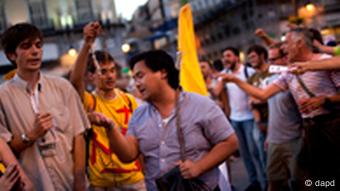 Up to 1.5 million pilgrims are expected in Madrid
For many Spaniards, the World Youth Day celebrations could not come at a worse time. The economy is faltering, the government is making painful austerity cuts and the country's unemployment rate stands at around 20 percent. For those under 25, the jobless figure is over 45 percent.
The government says the cost of the visit is being covered by fees paid by pilgrims and sponsors. Government spokesman Jose Blanco said the arrival of up to 1.5 million pilgrims was expected to inject more than 100 million euros into the Spanish economy, exceeding the cost of the youth event and papal visit.
Critics, however, have pointed out that the deployment of 10,000 police officers, cleaning costs, lower transport fares for pilgrims and the use of public buildings such as schools and gymnasiums to lodge them are a blight on the nation's financial books.
Meanwhile, a 24-year-old Mexican man accused of plotting a gas attack on protests against the pope will appear in court Thursday, a legal official said. He was one of about 30,000 volunteers helping in the World Youth Day celebrations.
World Youth Day began Tuesday and culminates on Sunday, when the pope will celebrate Mass.
Author: Darren Mara, Sarah Harman (AFP, Reuters)
Editor: Martin Kuebler