Pope Francis will use a visit to Fatima, Portugal, next month to canonize two shepherd children who the Catholic Church believes saw apparitions of the Virgin Mary 100 years ago.
The pope will celebrate the Mass to canonize Jacinta and Francisco Marto on May 13 .
According to Church belief, the Virgin Mary appeared to the siblings and their cousin, Lucia, on the 13th day of the month over a six-month period in 1917.
Jacinta was only seven years old at the time, Francisco was nine and Lucia was 10.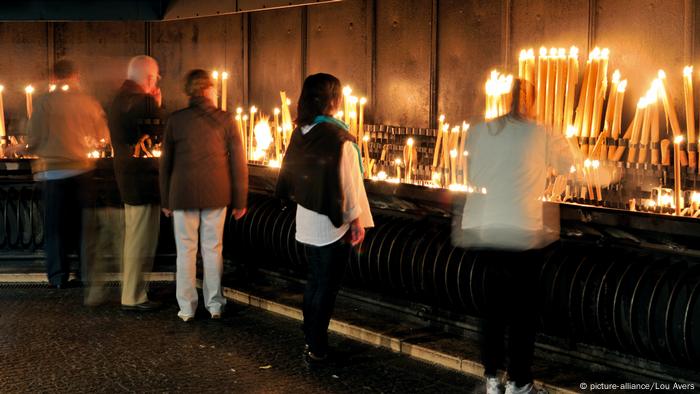 Pilgrims light votive candles at the Sanctuary of Our Lady Fatima.
Jacinta and Francisco died from the influenza epidemic that killed tens of millions of people around the world between 1918 and 1920. They are buried at the Sanctuary of Our Lady of Fatima, a major Catholic pilgrimage site. Lucia went on to join a convent and died in 2005 at the age of 97. Her canonization process is ongoing.
The Virgin Mary supposedly showed the children hell and shared three prophecies.
The first of the prophecies is believed to be World War II, widely interpreted as hell, the second was the rise and fall of Communism and the reconversion of Russia to Christianity.
Lucia kept the third prophecy a secret until she wrote it down for the Vatican in 1957. The prophecy described the death of a white-robed man and was interpreted as foretelling the assassination attempt on Pope John Paul II in 1981.
John Paul II beatified the siblings in Fatima on May 13, 2000, the same day the Vatican released the third secret prophecy.
The regular appearance of the apparition prompted tens of thousands of worshippers to travel to Fatima on October 13, 1917. Several witnesses said they had seen the sun dancing in the sky.
In 1930, the Catholic Church recognized the apparitions as "worthy of belief."
Pope Francis, 80, will be the fourth pope to visit the Fatima shrine.
cw/sms (AFP, AP, dpa)