Pope Francis on Sunday said he was sorry for comments made last week in which he insisted that victims of clerical sex abuse should bring "evidence," saying he had "wounded many people" who had suffered at the hands of pedophile priests.
"I apologize to them if I hurt them without realizing it but it was a wound that I inflicted without meaning to," he said at an airborne press conference on his way back from a tour of Latin America. "It pains me very much."
"I know how much they [abuse victims] suffer in hearing the pope say to them 'bring me a letter with the proof,'" he said, calling his own comments "a slap in their faces."
Widespread condemnation
On Thursday, while in Chile, Francis had described as "slander" claims by victims that Chilean Bishop Juan Barros had covered up for a notorious pedophile priest.
"The day I see proof against Bishop Barros, then I will talk. There is not a single piece of evidence against him. It is all slander. Is that clear?" the pope said to a Chilean reporter who had asked him about the accusations.
The comments were widely criticized not only by victims and their advocates but also in media in Chile and the pope's native Argentina. Even a key papal adviser, Cardinal Sean O'Malley of Boston, issued a statement admitting that the pontiff had caused "great pain."
Barros is bishop of the diocese of Osorno
Only partial retraction
However, in his remarks on Sunday, the pope did not entirely retract his "slander" claim, reiterating that anyone who made such accusations without providing evidence was guilty of defamation.
He also repeated his belief that Barros was not guilty, saying he had rejected two offers by the bishop to resign.
"I can't condemn him because I don't have evidence and because I am convinced he is innocent," the pope said.
Barros has been accused of protecting his former mentor, the Reverend Fernando Karadima, whom a Vatican investigation has found guilty of abusing teenage boys over many years. Karadima denies the allegations.
Barros says he was unaware of any wrongdoing, despite claims by one victim that the bishop had witnessed Karadima abuse him while a student.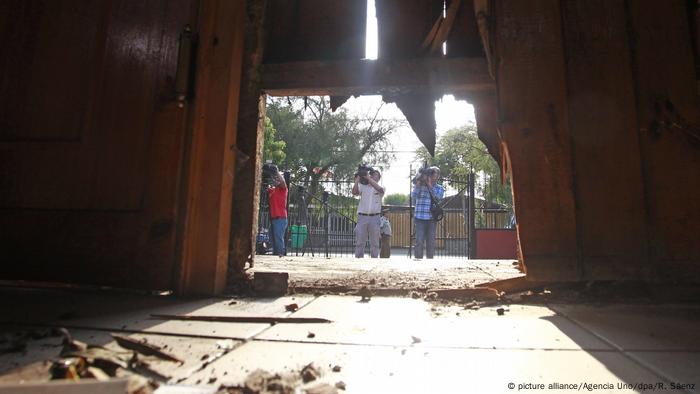 Three churches in Chile were vandalized ahead of the pope's visit in a sign of the church's dwindling popularity there
Victims' growing frustration
The pope has been criticized for not taking enough action on abuse by Catholic clergymen despite vowing "zero tolerance" for such offenses.
A planned Vatican tribunal to judge bishops accused of covering up sexual abuse or mishandling cases never got off the ground. In addition, a commission headed by O'Malley that advises the pontiff on combatting sexual abuse within the church has seen several defections by people disappointed with its activities up to now.
The Catholic Church has been hit by a number of sex-abuse scandals across the world over the past decades and has increasingly faced allegations that it is not doing enough to bring perpetrators to justice, or even actively hindering legal investigations.
Read more:Pope acknowledges Catholic church was 'bit late' in recognizing sexual abuse
tj/msh (Reuters, AP)