Polish Prime Minister Donald Tusk has fired Mariusz Kaminski, the head of the anti-corruption office and the ministers of the interior and justice departments have tendered their resignations over a gambling scandal that has already claimed the sports minister Miroslaw Drzewiecki's job.
In a meeting with reporters, Prime Minister Tusk said that Andrzej Czuma, the justice minister had submitted his resignation "in order to clear any doubts that he is involved in this matter."

Tusk added that the situation had to be examined thoroughly.
Also tendering his resignation was Deputy Prime Minister Grzegorz Schetyna, who is one of Tusk's closest political allies. Tusk noted that Schetyna had stepped down "in order not to give credence" to the people who had implicated him in the scandal.
"Trust is key... In order for the government to continue its work in an atmosphere of trust, my associates and I want to do everything to convince Poles and our political adversaries that we intend to resolve this case in an unbiased manner," said Tusk to reporters at a press conference.
Tusk said that he would name new ministers to his cabinet next week but did not go into details or name any possible candidates.
Higher taxes on gambling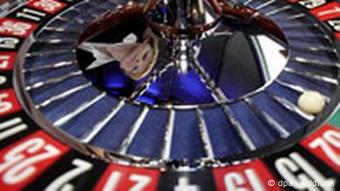 Taxes on gambling at issue
The entire issue revolves around allegations that businessmen may have had inappropriate contacts with politicians as part of an effort to water down tax increases on gambling. The government wants to increase taxes on gambling institutions to help pay for sporting events.
Prime Minister Tusk has said that he will set up a parliamentary committee to look into the scandal which is the worst crisis the right-of-center Civic Platform (PO).
"The latest information concerning the gambling bill has put the issue of trust in government to a difficult test," Tusk said.
The Prime Minister is looking to eliminate any hint of corruption in his government before the presidential elections in the fall of 2010.
In the wake of the allegations, the PO has lost ground in a poll and his rival Jaroslaw Kaczynski's right wing Euro-skeptic Law and Justice party has gained ground.

av/Reuters/AFP/AP/dpa
Editor: Trinity Hartman