On September 12th 1989, Poland's first freely elected prime minister, Tadeusz Mazowiecki, addressed parliament calling for change.
"We want to live with dignity in a sovereign democratic constitutional state. We want Poland to be open towards Europe and the World."
"Poland has to open a new chapter in its history book."
Earlier that year hardly anyone would have thought it possible that Mazowiecki would give that speech addressing parliament as the new prime minister. The round table discussions between the communist government and the opposition Solidarity trade union had been dragging on and for some time even seemed to be collapsing.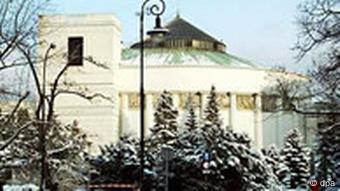 The Polish parliament in Warsaw
But under mounting public pressure the ruling Communists agreed to so-called "semi-free" elections. Thirty-five percent of the parliamentary seats were to be given to independent candidates who would stand in elections.
The remaining 65 percent were to reserved for the communist party. So there was no danger that the majority would go to the opposition. Former Interior Minister Czeslaw Kiszczak recalls that no one expected a real shift of power.
"My job was to win 65 percent of the seats for the party," he recalls. "We had of course hoped that Solidarity, the opposition movement, would not get all the remaining seats in parliament. But the reality was worse than our worst nightmare. Solidarity managed to get all of their candidates through in the first round of voting."
All of the 161 seats that were up for a free vote went to the Solidarity trade union. However, nobody believed that the Communist government would simply cave in and hand over power to the opposition, says Zbigniew Bujak, a former Solidarity activist.
"The government had the army, the police and all security personnel at their disposal. All in all there were easily 500 thousand men in arms. These men too stood to lose everything."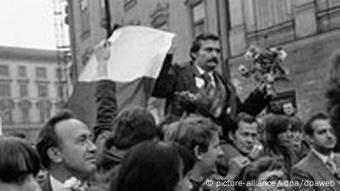 Lech Walesa was Solidarity's leader
But the leader of the Communist Party and head of the military, Wojciech Jaruzelski, accepted the defeat of his government. There was no danger that the Soviet Union would send in its troops – Mikhail Gorbachev had signalled that Poland could decide the issue on its own.
So the Polish leadership decided not the put down the challengers to power by force, says former opposition leader Wladyslaw Frasyniuk.
"Their idea was that the elections should show what the people were thinking. Jaruzelski accepted this popular vote and so enabled a peaceful transition into a democratic state with a civil society."

Author: Thomas Rautenberg/Andreas Illmer
Editor: Chuck Penfold