Ahmed Abdel Ghani's attempted murderer lives in the same apartment block as him.
The police officer who shot at him four times in May 2012 lives on the ground floor while Ahmed hobbles up the damp stairway on the fourth floor on his crutches from two bullets that he sustained in the altercation with him. He is still receiving rehabilitation after five major operations on his left shin and right thigh. Abdel Ghani is mistrustful of Egypt's police force but remains defiant.
"I am not scared of them [police officers], I've done nothing wrong," Abdel Ghani told DW. He recounts how he was coming back home from a long shift sculpting Pharaonic figurines, which he proudly displays in the small apartment where he lives with his mother, when he was confronted by the police officer's younger brother and his friends who were blocking the entrance to the apartment block.
An argument broke out and minutes later the police officer came down from the local police station manhandling Abdel Ghani but he managed to escape from him momentarily.
"He got out his gun quickly and shoot two bullets which struck me then two bullets after that barely missed me. I couldn't feel my legs," Abdel Ghani said. "The authorities haven't moved on my case, there hasn't even been a trial date set after three years since I filed a complaint with the public prosecutor against the police officer."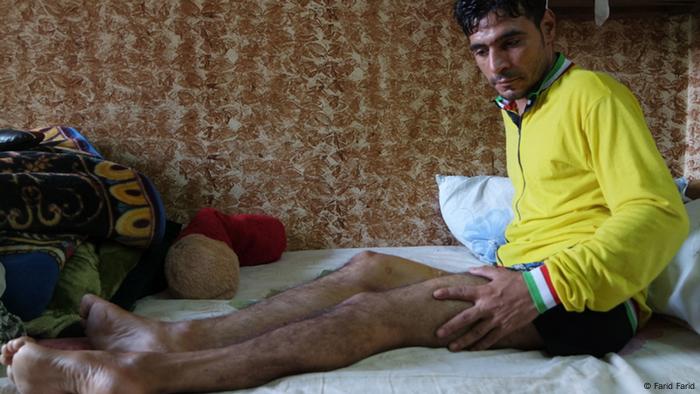 Five operations later, Ahmed still needs treatment on his leg
The worst year of human rights abuses
Abdel Ghani's plight fits a larger pattern of police impunity and increased brutality in the past four years since the start of the Arab revolutions in 2011.
"It definitely has been the worst year in how authorities have abused citizens across the board," Day Rahmi, a senior researcher at the Nadeem Center for Rehabilitation of Victims of Violence and Torture, told DW.
The center compiled a report claiming that there were 289 cases of torture, 272 cases of death outside legal norms, 119 cases of disappearance, and 63 injuries due to reckless use of weaponry by authorities in the first year of president Abdel-Fattah el-Sissi's rule.
The regime has been highly criticized most recently for passing a stringent counter terrorism law that cracks down on freedom of expression for journalists and civil society activists as well as allowing security agencies the power to detain citizens suspected of terrorism without any due process.
"Torture is institutionalized in the authorities' politics. We are not dealing with single incidents of some rogue police officers. These deaths are happening across police stations all over Egypt, not just in major cities," Rahmi added.
In the past week, a video viral video emerged of a police officer in a metro station beating and swearing at a man after he had complained that his fiancée had been sexually harassed. The whistleblower who shot the footage claimed, via a well known activist on Facebook, that he had been personally threatened by unarmed informants associated with the Ministry of Interior patrolling his home. The ministry earlier this year had set up hotlines for citizens to report police abuse but have been the perpetrators of such abuse themselves.
Rahmi, questioning the seriousness of the ministry's efforts to combat police abuse, noted that "not one police officer has been convicted commensurately for a crime they had committed even when there's clear video evidence." DW contacted the Interior Ministry repeatedly to seek comment on this case and other abuses, but to no avail.
Culture of impunity
Abdel Ghani tries to avoid the police officer who shot him around the drug ravished and impoverished area of Imbaba, a heavily populated area of informal housing in northern Cairo littered with piles of rubbish and clearly considered an afterthought in governmental urban planning.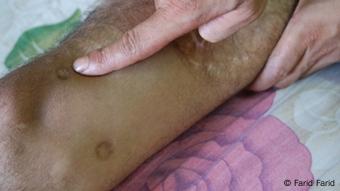 The marks and scars go beyond the physical damage
However, he has not been spared further abuse at the hands of other police officers even after his horrific injury.
"I was sitting on the corner of our alleyway and another police officer started slapping my face and hitting me asking me if I had sold drugs. I hurled abuse back at him because he exacerbated my injuries from the bullets, which he didn't know about even though I was on crutches," Ghani explained.
"It's known in broad daylight that these supposed sting operations are all just for show. The corrupt police officers are in cahoots with the local drug dealers," he added.
Abdel Ghani spends his days raising pigeons that flutter through his tiny balcony and undergoing psychological and physical rehabilitation sessions. He does not hold out much hope that his situation will change anytime soon as long as the culture of impunity within security agencies in Egypt remains the same.
"It's so ironic if you raise your voice, swear at them and stand up to them they will respect you. They will still beat you but at least you have your dignity in tact."