Before Saturday, Ilkay Gündogan hadn't played in a Bundesliga match for Borussia Dortmund in 434 days. An inflamed nerve in his back proved very difficult to treat, but he's been on the mend since surgery in June. While hopes are high that he'll be able to help turn things around at Dortmund in the Bundesliga, after being out of action for so long, it is absolutely no surprise that Gündogan came out onto the pitch looking rusty, as Dortmund lost 2-1 to Cologne.
As a key part of the puzzle in Dortmund's defensive midfield, Gündogan covered the very basics of his position quite well. His passing was solid and Dortmund dominated possession thanks in large part to Gündogan's contributions.
What was missing from the 23-year-old's game was grit and elbow grease. He won only 27 percent of challenges in the match. One of the ones he lost led to Cologne's first goal by Kevin Vogt.
Back in action
Marco Reus and Henrich Mkhitarjan also returned to the lineup for the first time Saturday after sitting out with injuries. They, too, did not quite have the form to make an immediate impact against Cologne.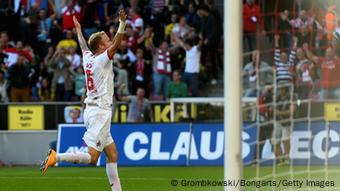 Vogt would have had a tougher time against the Gündogan of old
Reus, a late addition to the starting XI after Erik Durm sustained an injury in warm-ups, played well and assisted Ciro Immobile on Dortmund's only goal but was not as sharp as usual. He only started to get back into form at the beginning of the season after being forced to sit out the World Cup due to an ankle injury. Then another injury last month while playing for Germany sidelined him again. The fact that coach Jürgen Klopp had originally planned on starting Durm indicates Reus is not yet at full strength.
Armenia's Mkhitarjan had missed about a month due to injury and still looks like he's dusting off a few cobwebs: his passing left plenty to be desired and he was subbed out after 68 minutes.
No time for a waiting game
Make no mistake: the return of Gündogan, Reus and Mkhitarjan are all very promising developments for Dortmund, who have now lost three league games in a row and are flirting with the drop zone. But Dortmund will have to be patient as the players find their form. Unfortunately, they're a bit under the gun: in the next three weeks, they face Bayern Munich and Mönchengladbach in the league in addition to having two Champions League group matches.
"We have to take care of these mistakes," said Klopp after the match. "Not tomorrow or the day after, but now."
A return to top physical form for Gündogan, Reus and Mkhitarjan will come eventually, and with it the tenacity Dortmund need to start winning games. In the meantime, Dortmund need to be careful not to let their league struggles affect their concentration. Cologne's winning goal came from a glaring, out-of-character error by keeper Roman Weidenfeller, who simply failed to intercept a Yuya Osako cross to Simon Zoller.
"We spilled our own soup again," said Klopp in his usual quotable, down-to-earth and reasonable manner.