Governments wanting higher pupil scores in the worldwide PISA surveys for abilities in reading, mathematics, science and teamwork should strive to improve their society's regard for teachers and pay well, urged the London/Dubai-based Varkey Foundation on Thursday.
The Varkey Global Teacher Status Index (GTSI) survey found "a direct link between teacher status and pupil performance as measured by PISA — a set of regular student assessment surveys published by the Paris-based Organization for Economic Development (OECD).
Read more: East Asians top 2017 rankings in PISA
The GTSI was derived by charting existing PISA results against answers on teacher standing obtained by a Sussex University-based economic institute from 1,000 adults in each of the 35 countries surveyed as well as 5,500 serving teachers across those nations.

The team, led by Peter Dolton, also compared results from a smaller 2013 sampling of 21 nations as well as current pay levels and hours teachers say they truly put in and hours estimated by the public.
Asian nations lead
Asian nations — notably China, Malaysia, Taiwan, Indonesia, Korea and India — ended up ranked on the GTSI scale higher "than every European country and every Western nation."
Comparing its 2013 and 2018 studies, the study team concluded that teacher status had risen in 13 countries, with China — although seventh in PISA — indexed highest for teacher status. The biggest drops in status were seen in Greece and Egypt.
In Germany, where teachers' pay was relatively high, only one in five residents would encourage their children to become a teacher, the study found.
Every South American nation polled in the lower half on the index, with Brazil bottom and Argentina fifth from bottom.
In most European countries respondents thought that pupils tended to disrespect teachers rather than respect them.
Out of 14 professions across the 35 countries teachers came in seventh, with residents ranking teachers in status alongside social workers. In China, teachers were ranked alongside doctors.
"There is a clear and subtle relationship between respect for the teaching occupation and the pay perceptions people have in ranking occupations," said the report.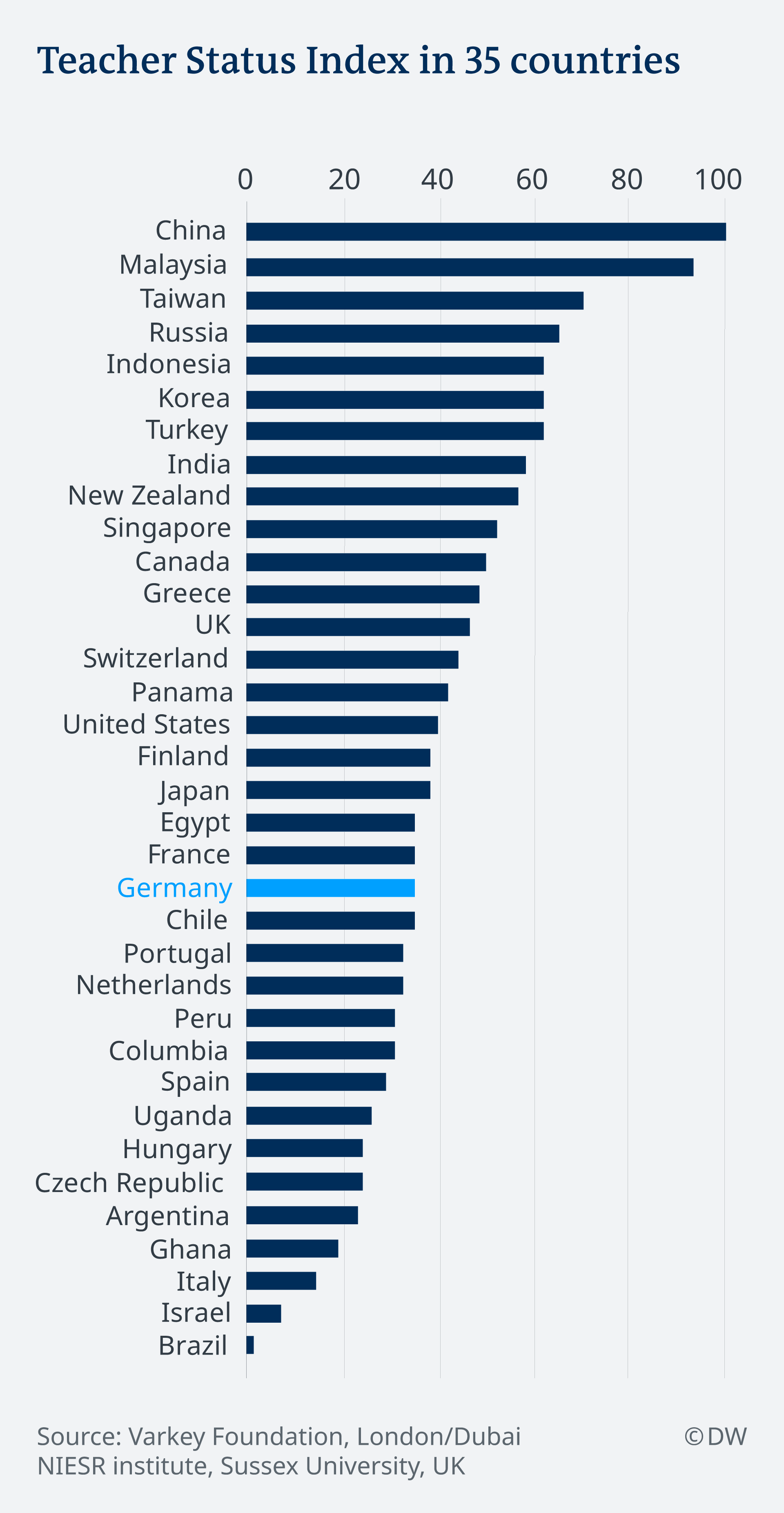 'Ministers should take teacher status seriously'
The foundation is headed by India-born, Dubai-based education entrepreneur Sunny Varkey, whose company GEMS Education, according to past reports by Bloomberg and The New York Times, has become one of the world's largest private providers of schooling since the 1980s. Its markets include East Asia and Africa.
"High teacher status is not just nice to have — increasingly it is likely, all things being equal, to lead to lead to greater student outcomes," the GTSI authors concluded, adding that confidence in education systems in the countries surveyed had grown since 2013.
"Ministers should take teacher status seriously and make efforts to improve it," said the report.
The Varkey-GTSI findings contrast with an internationally cited 2009 meta-study by the New Zealand-Australian education professor John Hattie.
The key to learning, Hattie found, lay in quality teacher-student relations, with emphasis on evidence-based learning, feedback and teacher avoidance of prejudging or fixed mindsets toward individual pupils.
Paid less than considered fair
The GTSI study also found that in 28 of the 35 countries surveyed, teachers were being paid less than what residents considered fair for the job.
Hours worked weekly by teachers were also underestimated in all but six countries, said the study, with Latin Americans working more, notably 13 hours extra in Peru.
Only 22 percent of Germans felt that students respected their teachers, compared to first-placed China where 81 percent of respondents saw teachers respected.
Positive encouragement toward teachers came from 50 percent of parents in China, India, Ghana and Malaysia; less than 8 percent did so in Israel and Russia.