The Philippines on Wednesday released reconnaissance pictures it said revealed Chinese intentions to build artificial islands on a disputed shoal to cement territorial claims over the South China Sea.
The images shown at the 10-nation ASEAN summit appeared to show Chinese coast guard ships and barges capable of dredging sand at the Scarborough Shoal. If true, it would be China's first artificial island building in the hotly contested shoal.
In Beijing, Chinese Foreign Ministry spokeswoman Hua Chunying denied China was constructing an artificial island.
"What I can tell you is that the situation in waters near Huangyan Island remains unchanged and China hasn't made any new moves," Hua said in Beijing, using the shoal's Chinese name. "We should be highly alert against the mischief-making intentions of people who spread such groundless information in such situations."
Beijing seized the Scarborough Shoal in 2012 after a standoff with the Philippine Navy, and has blocked Filipino fishing vessels from the area. China has built several artificial islands on other reefs, including military bases, in order to exert its claims over nearly all of the resource-rich South China Sea.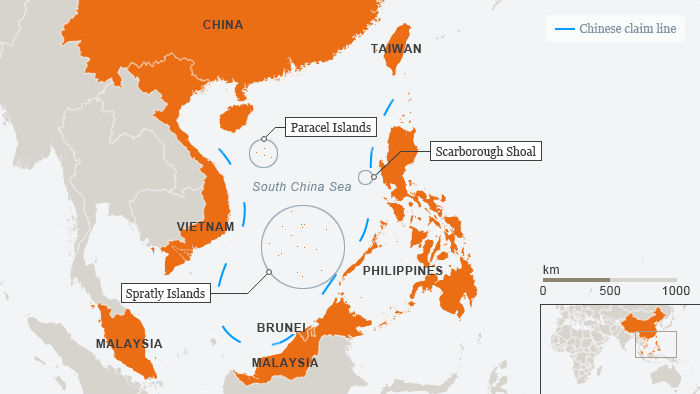 Vietnam, the Philippines, Malaysia and Brunei also have claims over parts of the sea, through which some $5 billion in trade passes every year.
An international arbitration body in July ruled on behalf of the Philippines, saying that Chinese claims in the South China Sea had no legal or historical basis. China dismissed the findings.
Philippine President Rodrigo Duterte, seeking to smooth ties with China, has said he would not bring up the court ruling.
The dispute has drawn in the United States, a treaty ally of the Philippines. The United States has conducted so-called freedom of navigation exercises in waters near the artificial islands and flown aircraft over the territories, prompting Beijing to accuse America of "militarizing the region."
cw/jil (AFP, AP)