The leading Pegida activist Tatjana Festerling criticized Berlin's policies while meeting representatives of several European anti-Islamic movements on Saturday.
Germany was a cautionary tale for the EU, showing to other states what could go wrong when a country open its doors to migrants, Festerling said at the conference in Roztoky, near Prague.
"(German Chancellor Angela) Merkel is growing a massive surplus of men in Germany," Festerling added, referring to the fact that most of the 1.1 million migrants arriving to Germany last year were male.
The Roztoky meeting was hosted by the Czech Usvit (Dawn) party and university lecturer Martin Konvicka, head of the local far-right group Bloc Against Islam.
The anti-immigration groups from different EU states have agreed on international protests on February 6, dubbed the "Day of the European Patriots." The protests are to be held in Pegida's stronghold of Dresden as well as in Prague, Warsaw and other European cities.
"Our basic message will be: Europeans won't give up Europe," Konvicka said in reference to the protests.
The leader of Bloc Against Islam also accused political elites of "suicidal and stupid politics."
End of history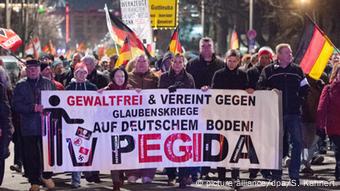 Festerling marching at a Dresden rally
The representatives of the far-right movements signed a joint "Prague declaration," warning that the "history of Western civilization could soon come to an end through Islam conquering Europe."
The English-language document also states that its creators "refuse to submit to the Central European Government" and consider it their duty to stand up against "political Islam, extreme Islamic regimes and their European collaborators."
Attack on 'blonde, white women'
The German Pegida movement gained popularity at the outset of the refugee crisis in 2014. The New Year's attacks in Cologne boosted anti-foreigner sentiment in Germany, with many right-wingers announcing their fears were vindicated by the sexual violence.
At a recent Leipzig rally, Festerling decried the "sex jihad against women" and the "Asylum-Mummy Merkel."
The Muslim refugees "started their wholesale terror attack against German women, against blonde, white women," she told the crowd.
Festerling is facing several criminal charges in Germany, including the one for hate speech.
dj/bw (dpa, AFP)