Money is often the first barrier to starting a legal trip to Europe. Take the visa fees. To enter one of the countries of the Schengen zone, which includes Germany, have to get a visa, which costs 60 euros ($82). Some people are exempt from this fee, including students and teachers, lecturers and scientists travelling for study or research purposes; young people up to 25 years old who want to take part in seminars, sports or cultural events; and close relatives of EU citizens.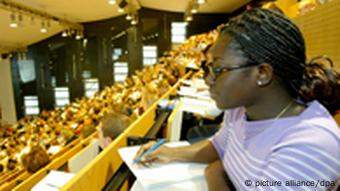 German universities annually attract tens of thousands of foreign students
Every year, about half a million young people from all over the world come to Europe to study at university. Half of them go to the United Kingdom while France is second in popularity, followed by Italy and Germany, which both accept some 30,000 new students per year.
But students do have to prove that they can afford life in the European Union. Those who don't have a large bank account balance or wealthy relatives or friends in Europe should apply for a scholarship. The German Academic Exchange Service (DAAD) is one of many European foundations that offer scholarships to non-German students. Last year, the DAAD granted benefits to some 6,500 students from Africa and the Near/Middle East.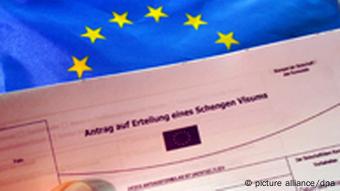 The Schengen visa allows for travel almost everywhere in the European Union
People looking to stay in a European country and work at a modestly paid job often contact au pair agencies and non-governmental organizations that offer internships that last several months. In Germany, for example, the new federal voluntary service ("Bundesfreiwilligendienst") offers opportunities to German citizens as well as non-Germans.
There are no clear statistics that track the number of people set off for Europe without a legal visa. Data from 2005 estimated that between 2.8 million and 6 million people were living in the European Union without a residence permit. The figure, however, includes people who arrived with a legal visa but stayed longer than permitted.
Author: Klaus Dahmann
Editor: Sean Sinico