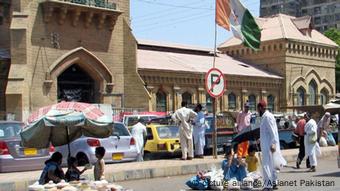 Some four million Pashtuns live in the metropolis Karachi
Pakistan's most populous city Karachi is a hub of modern technology, art, and a relatively liberal lifestyle. Some four million Pashtuns are estimated to live there. Most came from the northwest of the country, but even in this modern metropolis, Pashtun women face discrimination and a lack of opportunities.
On a typical narrow dirty street in Karachi, not one woman can be seen in the windows of several old five or six story apartment buildings. Pashtun women rarely go outside. Inside the buildings, there are hundreds of poor Pashtun families, many of whom have lived there for decades.
On the fourth floor of one of the buildings, a young girl, covering her face, opens the door. This two-room apartment is the home of 45-year-old Mumtaz Begum, a social worker who advocates Pashtun women's rights in Karachi. She invites Pashtun women to her apartment every day to discuss their problems.
IDs only for men's benefit
According to Begum, one of the most challenging issues for women is obtaining identity cards. It's estimated that all over the country, 10 million women don't have IDs. The share is particularly high with Pashtun women, where some 70 percent don't have IDs. "Nobody cares about women's identity cards," says Begum, and adds that women usually only come to the identity card office when they're pushed by men. "Men only seek identity cards for women for their own benefit, to obtain a piece of land or if they have some financial loss." Men who urgently need a woman to get an ID card for their benefit, Begum says, will also often bribe government officials.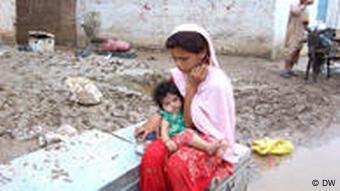 Pashtun women are often subject to centuries-old customs
One of the women at today's session is 20-year-old Gulnar Begum, originally from the Swat valley in Khyber Pakhtunkhwa province, in Pakistan's northwest, an area that used to belong to Afghanistan. She doesn't have an identity card, but questions what she would even do with one, as she is usually confined to her house. "My father and brother do not want me to go out of the house," she says. "I would like to go out of the house with my mother, but my brother and father do not allow us to go out alone. They want us to remain inside the house and work for them all day long. House is like a jail for us."
If she had an identity card, Gulnar Begum hopes she would be able to travel back to the Swat region, where the military now checks people's IDs. She feels cut off from the world now and only ever talks to her family members. If she could leave the house and meet people she might learn and understand more, says Begum, and gives an example: "We do not know if we talk right and polite or not. We only know how people talk at home and we can only talk about home."
Another woman at the meeting is Jamal Bibi, a mother of eleven children. She used to have an ID card, but it has expired. Her life consists of caring for the children and the house, and of fending off attacks by her husband. He does not allow her and her daughters to leave the house and beats her when she does it anyway, she says.
"My husband is cruel because he does not allow me to have an identity card. An identity card is very important these days." Not only does her husband beat her, Jamal Bibi says, but "other people also create hurdles for me when I ask for my rights. I am helpless."
Centuries-old customs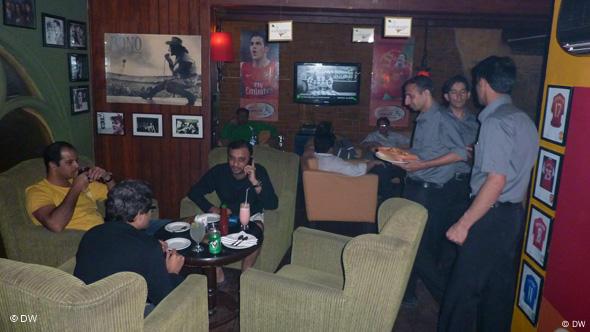 Life in the big cities offers new opportunities - for men
Karachi is the financial capital of Pakistan. Many Pashtuns migrated here following the recent military operations in the Swat region and northwestern tribal areas, and they now make up the second largest ethnic community in the city. The lifestyle of Pashtun men has changed dramatically, as there are more job and educational opportunities in Karachi than in rural areas. But Pashtun women are still restricted to centuries-old restrictive and oppressive customs.
At the National Database and Registration Authority office in Karachi, 25-year-old Daud Khan waits to renew his identity card. The auto rickshaw driver says there are 12 women in his family. But none of them have an identity card, he adds proudly. "We do not allow our women to have identity cards because then everybody would be able to see their picture." If it was up to him, says Daud Khan, women would get an identity card without a picture. "We do not allow women to go out of the house and get an education because this independence would create problems when they marry and move in with their in-laws."
First signs of progress
Pashtun men aren't just concerned about photographs and problems with the in-laws, however. Activist and researcher Farhat Perveen says an identity card is often the first step in empowering women. "One of the main reasons men don't want Pashtun women to have their identity cards is that they would demand rights." And there is another reason, says Farhat Perveen: "Pashtun men don't want to give Pashtun women the right to vote in elections. If they got identity cards then they would demand this right too."
Women's rights advocates like Mumtaz Begum want to increase the number of female voters in the upcoming election in Karachi. Although women make up more than 50 percent of the population of the country, voter turnout is often low, especially in areas where women lack identity cards.
But some progress has already been made. According to United Nations figures, 12 million women across Pakistan received ID cards over the last three years. Still, there is a lot of work ahead for Mumtaz Begum and other campaigners until all women in Pakistan hold the ID cards they are entitled to.