To German ears in particular, it all sounds pretty familiar: "I do not look at what I am signing, when my father tells me to sign, I do so with my eyes closed," Lionel Messi told a hearing before a Spanish judge last year in response to the accusation that he had evaded 4.1 million euros ($4.7 million) in taxes.
So it seems Franz Beckenbauer isn't the only soccer legend to make a habit of signing things blindly. Beckenbauer, who headed the committee that successfully bid for the right to host the 2006 World Cup, has used a similar defense with regard to the slush-fund scandal surrounding the process of bringing that tournament to Germany.
Neither the "Kaiser" nor Messi has admitted to having been aware of anything untoward. However, this strategy may not be of much help to Messi now.
50 percent of shell company owned by Messi
The so-called "Panama Papers," which were leaked on Sunday, have drawn the best footballer in the world into a maelstrom of accusations and alleged criminal machinations. The German national newspaper "Süddeutsche Zeitung" published a long report in its Monday edition about some of the data leaked.
Among other things, it pointed to a previously unknown shell company called "Mega Star Enterprises." According to documents that the paper received access to, Lionel Messi has a 50 percent stake in the company and has at times been represented by the dubious firm Mossfon. According to the "Süddeutsche" report, Mossfon manages shell companies, including some connected to around 20 current and former world-class footballers.
A skillful dribbler on the pitch
Here's how it all works: A player sells his image rights to a shell company based in a tax oasis that is connected to him or owned (partially) by him. The shell company then sells these rights on to sponsors who want to use the player's face in advertising. As a result, the proceeds that are shared by the player, his advisors and other parties involved are virtually tax free.
65 million euros in annual income
However, you have to wonder why someone like Lionel Messi would find this to be necessary. The magazine "France Football" has estimated that Messi earns an annual income of around 65 million euros through sponsorship deals, merchandising, and his salary as a player for FC Barcelona (36 million euros). But it seems the Messis don't feel they should have to pay tax on every last cent they take in. So Messi's father and manager Jorge Horacio, who once upon a time got his son a spot in Barcelona's youth academy, has done plenty of subsequent deals, allegedly designed to save or even avoid taxes.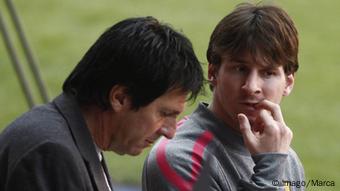 Father Jorge and son Lionel Messi
In addition to the 4.1 million euros in allegedly evaded taxes, which were already public knowledge - and which Messi has already paid back, the "Süddeutsche" reports that he collected 10.1 million euros in advertising revenue, which flowed into the shell company from large corporations such as Adidas, Danone or Telefonica. Included in the Panama documents is a page containing the signatures of Lionel and Jorge dated July 23, 2013 - long after the wrongdoing already known to the public, allegedly occurred.
Accusations denied
On Monday evening, the Messi family issued a statement in which it denied any wrongdoing.
"The Messi family wants to make clear that Lionel Messi has not carried out any of the acts attributed to him, and accusations he created a... tax evasion plot, including a network of money-laundering, are false and insulting," the statement said.
Tax-evasion trial
In the trial that is to begin on May 31, Messi is only facing charges related to the 4.1 million euros in allegedly evaded taxes, but he has been summoned to testify. That's because the Spanish finance ministry refused to take no for an answer, insisting that due to "evidence that the criminal actions were committed by the two defendants [father and son]," Messi must appear. Based on the current charges against him, Messi could get off with a fine. But this could change if the investigators were to decide to take into account the revelations contained in the Panama Papers.