When the German and Israeli leaders sat down for talks on Wednesday and Thursday (05-06.12.2012), the items on their agenda are fairly innocuous: innovation, education and sustainability. But the government consultations were overshadowed by the latest developments in the conflict with Palestine.
Israeli Prime Minister Benjamin Netanyahu's announcement to authorize construction of 3,000 further housing units in East Jerusalem and the West Bank was a point of contention. An Israeli settlement in the sensitive E1 area east of Jerusalem would practically divide the occupied West Bank in two. It would also cut off East Jerusalem from the remaining Palestinian territories.
The announcement is threatening future peace negotiations, and has been condemned by the German government, as well as by other Western countries wanting Israel to revoke the settlement plans.
German Chancellor Angela Merkel said she and Netanyahu addressed the settlement issue during a meeting on Thursday.
"We agreed that we disagree on this," Merkel said at a news conference with Netanyahu in Berlin. "We in Germany believe the work on a two-state solution must be continued ... we must keep trying to come to negotiations and one-sided moves should be avoided."
German concerns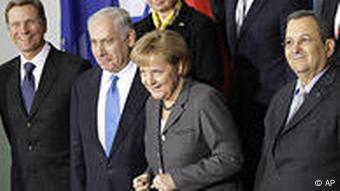 Netanyahu and Merkel: friends and allies?
Good relations with Israel are a cornerstone of Germany's foreign policy. Germany's historical responsibility for the Holocaust in part explains this policy vis-à-vis Israel. Relations have intensified in the last couple of years, and this week's meeting is the fourth since 2008.
Ruprecht Polenz, a member of the ruling Christian Democratic Union party and chairman of the Parliamentary Foreign Affairs Committee, said that "it's Germany's aim to enable a democratic Jewish state to coexist peacefully with its neighbors." This can only be guaranteed by a two-state solution, Polenz told DW.
The head of the German-Israeli Parliamentary Group, Jerzy Montag of the Green party, agreed. Ahead of Merkel's meeting with Netanyahu, he said he was "Chancellor Merkel will speak out openly and clearly, without breaking the close and historical Israeli-German ties." He added that due to Germany's special responsibility for Israel, the government should more openly endorse the two-state solution.
UN abstention
Montag said he expected the Israeli delegation to demand an explanation for Germany's abstention in a recent vote in the United Nations General Assembly, which granted non-member observer status to Palestine. Israel vehemently opposed the Palestinian bid and gave the go-ahead for settlements in area E1 shortly after the vote.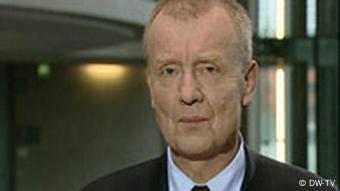 Polenz thinks Germany should voice its criticizm
Montag und Polenz both condemned the Israeli settlement plans. Montag said Israel needs to accept that almost the entire world supports a two-state solution - and that Israel would be in a better position not sabotaging this.
Polenz emphasized that aspects of the UN resolution do in fact support a peaceful solution. "In the resolution, the Palestinian side for the first time acknowledges the existence of an Israeli state," he said.
"There's talk of a Palestinian state coexisting side-by-side with Israel within the borders of 1967, plus mutually agreed border changes. That's precisely the formula that used to be on the table," Polenz added.
The chairman of the Foreign Affairs Committee said he was convinced that the German government had very good reasons to not veto such a resolution.
Arms exports
Current differences aside, Berlin and Jerusalem have long cooperated on security. In advance of any weapons deal with neighboring states, Germany carefully scrutinizes potential Israeli security concerns, Polenz explained, citing the example of a planned delivery of armored transport vehicles to Saudi Arabia. During the recent conflict between Hamas and Israel, Germany emphasized Israel's right to self-defense, Polenz adds.
"But Germany does not have to support every one of Israel's moves," Polenz told DW, referring to the settlements plan. However, he does believe that Israel is more likely to take constructive criticism from a trusted ally.