Among the 13 pieces to be sold on April 23 at the Mullock's auction house in Shropshire, England, is a self-portrait painted by Hitler when he was a young struggling artist living in Vienna.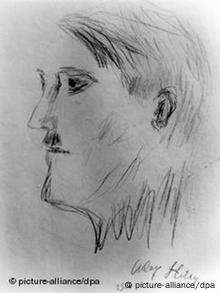 Before becoming leader of Nazi Germany, Hitler applied, and failed to get into, art school
The watercolor shows Hitler sitting pensively on a stone bridge, wearing a brown suit. His face lacks a nose and mouth, as well as the trademark square moustache.
Two years ago, 21 paintings attributed to Hitler were sold for 118,000 pounds ($170,000), or more than twice the pre-sale estimate, by an auction house in Cornwall.
But some art experts voiced doubts about the paintings' authenticity.
Richard Westwood-Brookes, a historical documents expert who will be holding the sale for Mullocks, told Reuters news agency that he's seen quite a bit of Hitler art and that all the subjects tend to be the same, explaining that Hitler liked to paint pictures of flowers, especially roses, and romantic landscapes with cottages.
Buyer beware
Those doing the bidding in next month's auction will most likely be history buffs interested in Adolf Hitler as a historic figure. The paintings are mostly watercolors and signed with Hitler's initials.
"They're not exactly the greatest pictures in the world," Westwood-Brookes said, adding they could fetch between 400 and 1,000 pounds.
Westwood-Brookes said an Austrian expert had issued certificates of authenticity for the pictures, which once belonged to a British soldier stationed in Essen, Germany, in 1945.
The authenticity of Hitler's work has long been a bone of contention. In 1983, a British historian was taken in by diaries purportedly written by Hitler that became a sensation before turning out to be forgeries.