At 5 in the morning, a tired Manar stands in front of the Syrian Embassy. The 17-year-old needs a new passport to leave Jordan. Like many other young refugees, Manar wants to go to Europe. "You have to wait a long time, which is why I have come so early," he says, smiling shyly. "I want to go to Turkey and from there to Greece." Then he takes a taxi back to Irbid, in northern Jordan, where he lives with his mother and three younger brothers.
During the nearly two-hour ride, Manar talks about the war and his family's flight to Jordan in 2012 from their home in Daraa, in southern Syria. First, they lived in the Zaatari refugee camp (pictured). Now, the family rents an apartment in Irbid. The father works in Kuwait and supports them, but they barely get by. Manar was able to finish school in Jordan and now does odd jobs. He, like other refugees, does not have a work permit here. "I have the feeling that all the doors are closed here," says Manar, who sounds older than his years. "And I want a future for my little brothers and me, but that is not possible in Jordan." That's why he is willing to embark on the risky journey to Europe in a rubber dinghy from Turkey.
The UNHCR registers refugees in Jordan's capital, Amman
Mohammed (not his real name), Manar's uncle, says things have become more difficult for many families since the World Food Program cut its aid and no longer hands out food vouchers. "It feels as though most people have just realized that the war can go on for a long time," he says. But people are simply tired after living as refugees for three years: "Everyone talks about it here. And many are considering allowing their children to go to Europe so that they can build some sort of future there." His own two sons took the dangerous Mediterranean route to Europe and are now at a refugee reception center near Munich.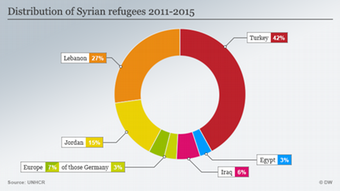 Many people from war zones in Iraq, Yemen and Syria have found refuge in the small state of Jordan, which has now also become a transit country. The UNHCR refugee agency has officially registered about 630,000 Syrians in Jordan, though the government estimates that 1.4 million Syrians have found refugee there since 2011.
Now, many of them are toying with the idea of leaving Jordan. Some of them go back to Syria, even as the country's multifront civil war continues to range. According to the United Nations, more than 3,500 refugees did just that in August alone. It is assumed that quite a few of them return to Syria only to start their journey west, via Turkey - many cannot afford the airfare from Amman to Istanbul; the flight is just two and a half hours.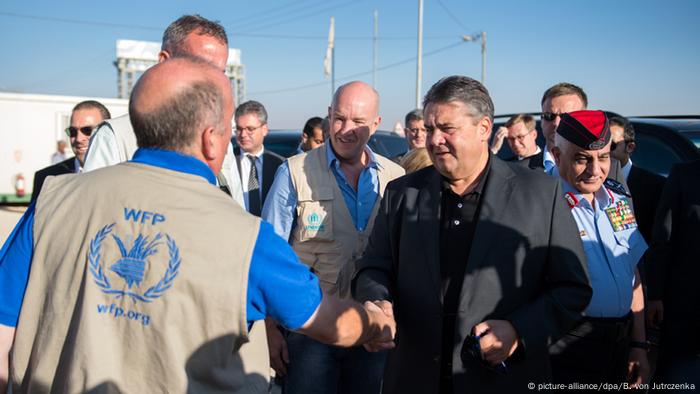 German Vice Chancellor Sigmar Gabriel visited the Zaatari camp in September
'People are respected'
Manar does not have enough money for his journey. Right now, he and his uncle are keeping up with the latest news. Refugees use social networks to exchange information about routes to Europe and to stay in touch with people back home. "I know it will not be easy," Manar says, "but my cousins there told me that people are respected there and they are given a chance."
He hopes he can study civil engineering in Germany. But he first has to learn German. He has already downloaded German vocabulary lists with Arabic translations on his cellphone. His uncle helps him as much as he can, but he also tries to remain realistic. "Everyone here speaks of 'Mama Merkel' and is grateful that Germany is accepting so many refugees," Mohammed says. But he would like more information about what really awaits refugees in Germany. "Many simply have false illusions about what they will encounter there," he says. "But they probably just accept the risks because the pressure on them is too strong."
Manar has packed his belongings: a pair of jeans, a clean shirt, pajamas, a charging cable for his phone, on which he has saved pictures of his family and friends, a towel, and soap - whatever fits in his small backpack. "The most important thing is that it is light because I have to carry it for days," he says. Manar knows the routine; he had also left Syria with only a small backpack.
The boy does not feel particularly well now that the time to depart is near. "The first time, we had to leave Syria in the middle of the night," Manar says. "That was hard enough. Now I have to go again. I never thought I would be forced to leave my family and friends and not have a home." Then, he quietly adds, "but I hope it will all go well."