With the 73rd session of the UN General Assembly (UNGA) in New York now closed, many African delegates will be returning home over the weekend, exuberant and perhaps looking forward to how they can give little regard to issues of justice and international jurisdiction.
US President Donald Trump has set this tone with his contempt for the international courts.
Last month, his National Security Advisor John Bolton threatened that the US country would sanction and prosecute International Criminal Court judgeswho open an investigations into US war crimes in Afghanistan.
"The United States will use any means necessary to protect our citizens and those of our allies from unjust prosecution by this illegitimate court," Bolton said.
By "allies," he presumably meant NATO members, or the European Union for that matter. To add insult to injury, Trump told the UNGA the International Criminal Court (ICC) in The Hague had no jurisdiction, legitimacy or authority. He also accused the UN-backed court of violating all the principles of justice, fairness, and due process.
Such statements are regrettable, coming from a country that claims to believe in values such as equality before the law, justice for all and respect for institutions. The US had always been a yardstick for many countries on good governance and accountability. That should be considered history now.
The contempt Africans have for the US administration is at an all-time high. And to boot, Trump's America First slogan ultimately means less meddling in Africa's internal affairs. It is only when Trump appears to want to push a more sinister agenda, by claiming for instance that South Africa's white farmers are being slaughtered in large numbers by blacks, that he sets off a Twitter frenzy.
It is a shame that the usual agitators in the human rights domain – Human Rights Watch, Amnesty International et al – failed to come out to strongly condemn Bolton and his master over their attacks on the ICC. A rather sad case of barking dogs that seldom bite.
It is also notable that apart from President Emmanuel Macron of France, who indirectly castigated Trump for his remarks, no European leader did likewise. Could it be that Trump's reference to "allies" won him their silent nod?
Despite the fact that most countries on the African continent oppose the ICC, arguing that it was set up to try only Africans, they never explicitly question its existence and many are a party to the Rome Statute that established the court.
Trump's misguided attack on the ICC would have been music to the ears of some African leaders, among them Sudanese President Omar al-Bashir. It put Africa's human rights violators on the same page as the leader of the world's superpower.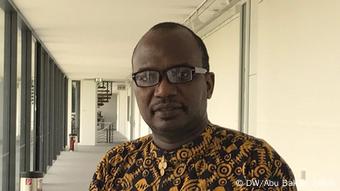 Isaac Mugabi is an editor with DW's English for Africa service
Al-Bashir is wanted by the ICC for crimes against humanity, murder, extermination and intentionally directing attacks against his own people in Darfur, Sudan.
The stance of the US must also bring a sigh of relief for both sides of the conflict in South Sudan which for many years have killed, raped and tortured innocent civilians. The war was triggered in 2013 by a political disagreement between incumbent president Salva Kiir and his then deputy Riek Machar.
The suffering and displacement of civilians in South Sudan have reached alarming levels, such that the absence of justice means the warring factions can continue attacks on civilians unabated. Observers think that an investigation by the ICC should have been opened to force an end to the conflict, and perhaps the right platform would have been the 73rd UNGA.
But with Trump's remarks, there could be no end in sight for the suffering of the people of South Sudan and the UN, much like the African Union, is slowly turning into a talk shop. In the absence of justice at an international level, the South Sudanese people can only hope that by a sheer miracle the guns will go silent.
Read also: Fatou Bensouda: Critics 'don't understand the ICC'
What next for the ICC and Africa after Trump's denigration?
If the ICC is to remain relevant, at least in the eyes of those who believe in justice or the South Sudanese people, it must re-examine its working relationship with all countries, regardless of status.
The court has for too long been used by the so-called superpowers as a tool to serve their own interests. Once it has outlived its purpose it risks becoming a shadow of itself. No one should be surprised if it immediately shelves its investigations into alleged crimes committed by US military personnel in Iraq. Don't bite the hand that feeds, the proverb goes.
Besides, the ICC judges may need to travel to the US on holiday, away from the hectic time spent sifting through indictments in The Hague that will never see the day of light. The last thing they would want is to be arrested, as forewarned by Bolton.
Instead of traveling to New York to make political statements, African leaders should focus more on consolidating political gains and empowering the already established continental justice like the African Court of Human and Peoples' Rights that is based in Arusha, Tanzania.