Even as he bowed and waved his cap in goodbye, Peter Stöger couldn't admit it. He spoke of gratitude to the fans rather than departure, but it was the look of a man who knew his time in charge of Cologne was over.
The worst ever start to a Bundesliga season has cost Stöger his job and given Cologne are without a win in 14 league games, this seems fair. And yet, this feels more like a habitual decision of the football world rather than an sensible one for the club.
The loss of Anthony Modeste and his 25 goals proved a burden Cologne's attack couldn't carry as the club failed spectacularly to repeat last term's surprise fifth-placed finish.
Cologne's defense also proved a little leakier than last season while balancing three competitions proved a struggle. Former sporting director Jörg Schmadtke's dips into the transfer market proved fruitless and the number of incorrect VAR decisions that went against them was remarkable. On top of that, the number of players out injured could almost fill a matchday squad, leaving youth players to step in and players to play out of position.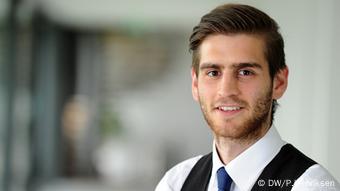 DW's Jonathan Harding
This inexperience and misfortune would have made life difficult for any head coach, and yet Stöger still managed to get a point on Saturday at Schalke, one of the most in-form teams in the Bundesliga. He has also kept Cologne within touching distance of the knockout rounds of the Europa League and they're in the last 16 of the German Cup. What is a head coach to do?
After the Schalke game, some of the Cologne players were in tears, some fans took to social media to protest. Stöger had clearly not lost the dressing room or support from the terraces. Sometimes, the head coach isn't the problem but he still has to pay the price.
"Spürbar anders" is the club's motto - noticeably different. And yet in many ways, this decision feels noticeably familiar.
After weeks of fumbling over a decision they were looking at "from week to week", Cologne's board have let their fear get the better of them.
They have fallen fate to the sweet taste of success and let one extraordinary season change expectations beyond the club's ability.