Germany's Chancellor Angela Merkel likes being seen with Niger's President Mahamadou Issoufou - and vice versa. Today is Issoufou's third official visit to Germany since he was first elected in 2011. He is also a welcome face at international events in Germany – most recently Issoufou attended the G20 Africa Conference held in Berlin in 2017.
As for Angela Merkel, she visited Niger in 2016, promising several million euros of additional aid as well as trucks and training for the country's armed forces. The primary school she visited on that occasion has since changed its name to Dr Angela Merkel School.
Niger can bank on its reliability
Nestled below Algeria and Libya, with Mali to the east, Chad to the west and Nigeria to the south, Niger doesn't have so much going for it at first sight. The landlocked West African nation is one of the poorest and hottest countries in the world with most of its land lying in the arid Sahara Desert.
But politically Niger looks good compared to its neighbors. Libya is simply dysfunctional while attacks in Mali are increasingly destabilizing the country. As for Chad, the country is ruled by dictator Idriss Déby who doesn't make for such good press photos. Niger, on the other hand, has so far managed to avoid being sucked into the maelstrom of conflicts in the region.
In addition, Niger is a key transit hub for sub-Saharan Africans trying to cross the Mediterranean to Europe – and Issoufou's government has largely shown willing to work with Europe to curb the numbers of people using this route.
Niger also has a relatively capable military which it uses to fight terror groups along its border with Mali and Nigeria.
All of these reasons make Issoufou a key European partner.
Merkel and Issoufou need each other
With migration causing a massive political rift within Germany, Issoufou has a strong symbolic value for Merkel. By being seen with him, she is signaling to her critics: "Look, I'm successfully working to close the migration routes."
Conversely, Berlin's interest in Niger gives Issoufou the opportunity to break away from the clutches of France, the country's former colonial power. As such, President Issoufou is also sending a signal: "Look, I'm opening up new sources of investment and making Niger more independent."
It may seem like a win-win situation for the governments. But this Niger-German friendship comes at a high price for others.
Migrants and critics bear the cost
Firstly, there are the migrants who die attempting more hazardous routes through the Sahara to avoid being caught by Nigerien patrols. Secondly, there are the critics of Niger's president who are thrown behind bars for questioning his policies.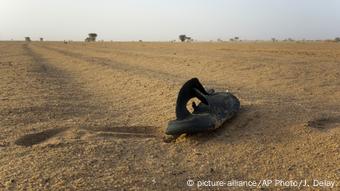 Travel across the Sahara has become more difficult and dangerous due to increased checks in Niger
The more help Issoufou gets from Berlin and Brussels, the more sensitive he seems to be to criticism.
During the 2016 elections, one of the main opposition candidates, Hama Amadou, had to conduct his campaign from prison where he was held on charges of baby trafficking. And in the spring of 2018, the government detained almost all the heads of vociferous consumer and civil rights organizations for several months after they organized protests against a new finance law.
Even press freedom, for which Niger has been praised in the past, is increasingly being curtailed. A growing number of journalists are being harassed and arrested for covering sensitive subjects. A particularly egregious example is the case of the journalist Baba Alpha, who was jailed for a year on charges of using false documents to obtain Niger citizenship before being deported to Mali.
EU protection as democracy declines
It seems that Mahamadou Issoufou and his ruling PNDS party are exploiting the country's European partnership to erode democracy. They are using domestic anti-terrorism and anti-immigration policies to crack down on dissent. Their goal: to secure their power beyond the end of Issoufou's second and final term which expires in 2021.
Angela Merkel shouldn't play this game, but instead, make it clear that the interests of Germany in the Sahel will not be enforced to the detriment of democracy and human rights.
And President Issoufou should be confident enough to use his strong position abroad and his domestic achievements to appease his critics. He must finally put the hardliners in his government in their place and make it clear to all the Nigeriens that he has no interest in maintaining power at all costs.