Issoufou swore his oath of office in Niamey, the capital and largest city of the West African country. With nine African heads of state in attendance at the ceremony on Saturday, the president vowed that landlocked Niger would contribute to the fight against militants alongside seven of its neighbors, including Chad and Libya.
"Terrorism is an absolute evil," Issoufou said, stressing that "as long as terrorism is not eradicated in northern Mali and as long as Libya is not stabilized, we will not be able to sleep in peace."
A regional force comprising troops from Nigeria, Chad, Cameroon, Niger and Benin has been deployed to fight extremist factions.
Security and poverty
Re-elected two weeks ago, Issoufou had vowed last Wednesday to form a government of national unity to seek "economic and social development," saying there was nothing contradictory about pursuing security amid poverty.
"Because if there is no security, there is no agriculture, no infrastructure," Issoufou said.
Issoufou received a reported 92 percent in the March 20 runoff poll, which was boycotted by the opposition and had low overall turnout.
'Renewed their confidence'
During Saturday's inauguration speech, Issoufou said Niger's citizens had "renewed their confidence in me for a second mandate."
Issoufou went on to highlight threats posed by extremist groups in the Sahel region and in the southeast by Boko Haram, which is based in Nigeria.
Last Wednesday, Niger's Interior Ministry reported that six soldiers on patrol had been killed during an ambush "by Boko Haram terrorists" in the southeastern Diffa region, near the border with Nigeria.
Rival Amadou in France
Issoufou's sole presidential challenger, Hama Amadou, flew to France for medical treatment just before the runoff vote last month.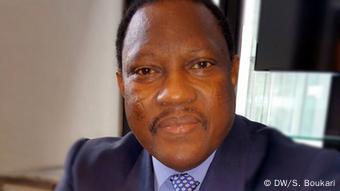 On bail, Amadou flew to France
A court granted Amadou bail from jail, where he had been held since November on charges of trafficking babies.
Amadou's supporters branded the case, which involved 20 people, including bankers, as politically motivated and bogus.
Uranium, oil
Uranium ranks as Niger's leading export. In 2014, it agreed terms with the French nuclear energy group Areva at two uranium mines.
Niger became an official oil-exporting nation in 2011, using a state-run refinery at Olelewa in central-eastern Niger that is jointly run with a Chinese company.
The arid nation faced famines in the 1970s and 1980s. Increasing desertification is blamed in part on climate change.
Food shortages looming
The United Nations has already warned that 2 million people will need urgent food aid in 2016, despite an 88,000-ton surplus in cereal production.
Coupled with poverty, Niger has one of the world's highest birth rates - 7.6 babies for each woman - as well as high maternal mortality, according to the United Nations.
Only four of every 10 girls are enrolled in primary school. Only three of 100 girls make it to high school.
ipj/jm (AFP, Reuters, AP)