The attack on the beach resort Grand Bassam was an answer to France's military presence in West Africa - that is what the terrorist network Al-Qaeda in the Islamic Maghreb (AQIM) claimed. The attack in Ivory Coast on Sunday (13.03.2016) left 19 people dead, four of whom were French. The terrorist group confirmed that its gunmen had targeted a beach frequented by foreigners.
The presidents of nearby Togo and Benin visited Ivory Coast in the days after the attack. Yet France was the only non-African nation to send both its foreign and interior ministers, Jean-Marc Ayrault and Bernard Cazeneuve to the West African country (as seen in Ayrault's post on Twitter below). The ministers announced that France would deploy a dozen gendarmes to Burkina Faso's capital Ouagadougou.
These are, however, not members of France's conventional police force, Dakar-based reporter Bram Posthumus told DW. They are France's National Gendarmerie Intervention Group (GIGN), an anti-terrorist unit. They are also not the only French forces in Burkina Faso. Together with Ivory Coast, Chad, Mali, Mauritania and Niger, Burkina Faso hosts 3,500 French troops who are part of Operation Barkhane - France's counter-terrorism operation.
Do West Africans feel more or less safe?
Reactions to France's deepening engagement in West Africa and the Sahel region are mixed. "Some people say that rather than preventing terrorists from coming to this part of the world, they attract them," said Posthumus. The mandate for these new forces is as yet unclear. It is not known whether they will be able to pursue suspected terrorists in Burkina Faso or neighboring countries on their own or only in collaboration with national forces.
France has a very strong presence in the region. When gunman attacked Ouagadougou's Hotel Splendid, units of Burkina Faso's army were said to have been told to wait for the French before they could step into action. "These are the kind of actions that are seen as an interference in the internal affairs of Burkina Faso and such interference would be massively unwelcome," Posthumus said, referring to the sentiments amongst young Burkinabes.
According to Nigerien journalist Seidick Abba from the Agence de Panafricaine de Presse, the visit by the French ministers less than 48 hours after the attack, reflected the special relationship between France and Ivory Coast. France, he said, has good economic and political ties to the country. France's military presence through Operation Barkhane has been very effective, although, in the long-run, this presence could become problematic. "West African countries should in the future ideally be able to ensure their own security, instead of becoming dependent on others," Abba told DW.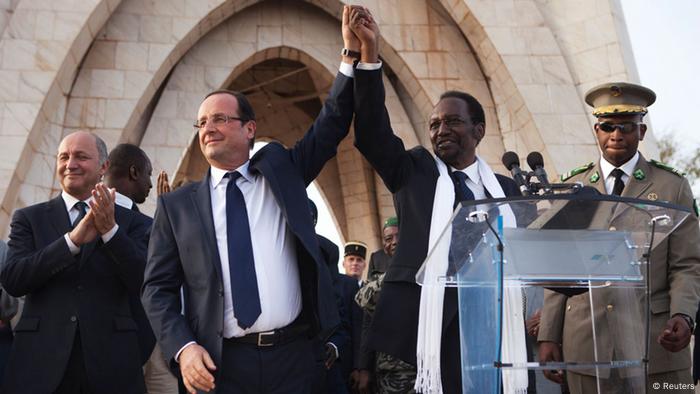 French President Hollande was treated as a hero in the Malian anti-terrorism offensive
Why take interest in West Africa?
French President Francois Hollande has tried to put the relationship between fromer colonial power France and the West African nation on a very pragmatic, modern footing between equal partners," Chatham House expert Paul Melly told DW.
A research paper written by Melly and his colleague Vincent Darracqc in 2013 concluded: "France wields a level of influence in sub-Saharan Africa that it cannot command anywhere else in the world. In crisis situations, it is still seen as a key source of diplomatic, military or even financial pressure on - or support for - the countries in the region."
People used to refer to the "vested interests" that France had in West Africa in the post-colonial period, Melly said. Hollande's predecessor Nicolas Sarkozy shut down French military bases in Senegal. Hollande initially tried to follow the same path, until the crisis in Mali flared up. "France intervened in Mali at the request of the Malian government with the practically universal welcome of other African governments in order to end the Jihadist takeover of northern Mali," he said.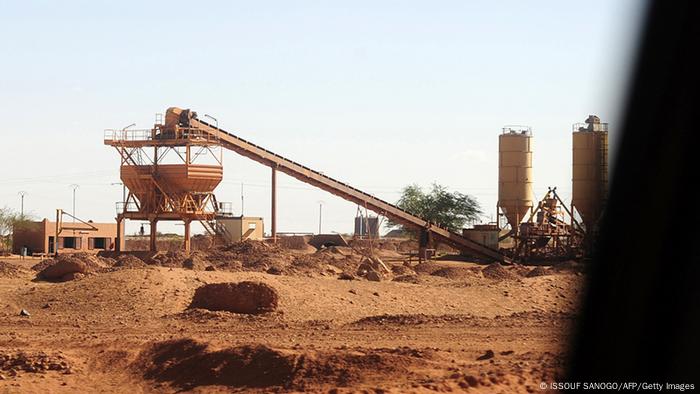 France's state-owned nuclear firm Areva extracts uranium in Niger. In 2010 some of its staff were kidnapped by AQIM.
France has business interests in the region, it trades in coffee and cocoa, but it has stayed out the mining sector, which is dominated by British, US Australian companies, Melly explained. The one exception is its stake in Niger's Uranium extraction. It is only when you leave the leave Sahel region and venture into Central Africa, that you see French companies like Total dominating the oil sector.
France's military presence in Central African Republic and the country's heavy reliance on France for stability, is viewed by Abba as problematic. West Africa, he argued, should not go down that route.
Is France making the region unsafe?
According to Ryan Cummings, director of the South African risk analysis group Signal Risk, France's strong engagement against militant groups during the Malian crisis, was extremely effective. However, when France handed the controls over to ill-equipped Malian and UN peacekeeping troops in 2014, militant groups regained strength.
Fundamental Jihadism is targeting people who collaborate with the international community, Melly noted.
Bram Posthumus and Eric Topona contributed to this piece.