The hours-long siege of the luxury Splendid Hotel in the capital Ouagadougou ended on Saturday, leaving four militants dead.
The West African country's President Roch Marc Christian Kabore said a "partial death toll" from the "cowardly and vile" attack indicated 23 people from 18 nationalities were killed.
At least 33 of the hostages were wounded as Burkinabe and French security forces flushed out three al-Qaeda affiliated attackers in a firefight centered around the Splendid Hotel and a nearby restaurant. A fourth attacker was killed at a nearby hotel.
Commandos stormed the 147-room Splendid Hotel in Burkina Faso's capital early on Saturday - some five hours after al Qaeda-linked militants launched an attack there at around 7:30 p.m. local time (1930 UTC) on Friday.
Gunfire first erupted when armed assailants opened fire at the Cappuccino restaurant, before storming the Splendid Hotel.
Security forces arrived shortly after, prompting an intense exchange of gunfire in the capital's business district.
Security sources said two of the four militants were women.
A fire also broke out at the hotel after forces used explosives to enter the building in a bid to free the hostages. The blaze spread both in and outside the building.
A shocked survivor who asked not to be named told a DW correspondent that two militants with heavy weapons had broken through the door of a meeting room and sprayed a volley of bullets.
"One of the assailants shot in my direction and I was hit in the shoulder, but others were severely wounded," the survivor said. "Then the French security forces came and freed us."
'Revenge attack'
Al Qaeda in the Islamic Maghreb (AQIM) said they were behind the attack, adding that it was "revenge against France and the disbelieving West."
According to ministry data, more than 3,500 French nationals live in Burkina Faso, a former French colony. The French also have troops in West Africa battling jihadist militants in the Sahel region.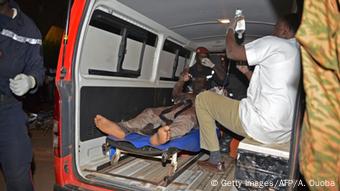 The death toll is likely to mount.
Along with two other groups, the hardline AQIM militants also claimed responsibility for November's attack on a Radisson Blu Hotel in the Malian capital, Bamako. Twenty people died in that raid, including 14 foreigners.
Since Burkina Faso's veteran President Blaise Compaore was overthrown in a popular protest in October 2014, the largely Muslim country has endured bouts of political turmoil, but has been largely spared violence by Islamist militants.
President Kabore, who took control last month following democratic elections, is widely expected to reform the military in order to rid the country of a long history of coups.
Austrian couple kidnapped
Separately, an Austrian doctor and his wife volunteering in the north of the country near the border with Mali were kidnapped by extremists Friday night, the security ministry said.
The Australian Foreign Ministry said it was looking into the kidnapping.
cw/se (AFP, dpa, Reuters)