In love and politics, the honeymoon stage usually wears off after a year. Once the election campaign excitement dies away, presidents often see their popularity begin to wane. That is true even for Emmanuel Macron, who was celebrated as a shining hero of reform and a savior from far-right populism when he took office.
The French president may be right to call his fellow citizens "Gauls who resist change" at least with regard to the part of the population who immediately burn car tires on the streets as soon as there's talk of even gently reforming the country's overtaxed social security system. It is, however, by no means smart to treat one's own people with such arrogance. By now, Macron has repeatedly behaved in a way that many people regard as condescending and bossy. As a result, his approval ratings are spiraling downwards.
Success isn't enough
That said, the 40-year-old has more to show for after one year in the Elysee Palace than his immediate predecessors did during their entire presidencies. Presidents from Jacques Chirac to Francois Hollande failed to reform the country's labor laws, and they changed prime ministers like soiled shirts. Macron, on the other hand, for months suffered a strike by France's rail workers who did not want to give up their outmoded privileges. Substantively, he has been successful, and there is no doubting his steadfastness.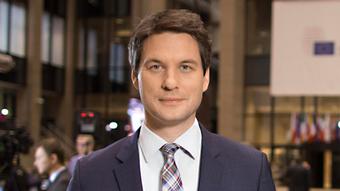 Max Hofmann heads DW's Brussels bureau
Now it's time to show he can be more than just a tough-minded politician. He must stop being so blatantly intellectual. Instead, he should show empathy and understanding for people's troubles and woes. That, too, is politics. In his case, it is as important as actual facts. Slowly but surely, the French are getting the impression they are dealing with a new Roi Soleil, a Sun King. One who ignores advice and just wants to do his thing. If that doesn't change, the president is sure to lose more members of his cabinet.
A cabinet that backs the president
His style alone can't explain the loss of ministers these past weeks. Macron's experiment of uniting as many political forces as possible in one government is also to blame. Attempting to achieve policy results in that kind of environment was never going to go entirely smoothly. Nicolas Hulot, the activist promoted to environment minister, is probably the best example — disappointment and resignation were inevitable.
Read more: Is French President Emmanuel Macron's honeymoon over?
Macron now has the opportunity to get some things back on track. He has indicated he does not want to substantively change anything — and he doesn't even have to. For decades, the French wanted a leader who would implement his plans and not give in to the trade unions or other interest groups. Now they have Macron. In turn, he hopefully has a cabinet that, as a whole, can identify with the president's plans. That is a key step if he wants to find his way out of the popularity slump.
Antithesis to populism
How Macron presents himself is even more important from now on. His plans to tour France in about three weeks are an indication that he wants to reach out to the people. Over the course of a few days, the trip is scheduled to take him to various World War I locations. No other French president has spent so much time commemorating the Great War that ended a century ago this November.
It will give him a chance to show some humility, to really listen and not just reprimand. That is what Macron has lacked so far. He needn't discard his drive, his fiery style of debate and his love of culture. Of course he should continue to be the antithesis to populism. But even one who wants to continue to be revered as a shining hero and who would like to go down in history as a successful president must learn from his mistakes.