They did it the hard way (if penalties is indeed the hard way for Germany) but they did it. Despite requiring spot kicks, Germany were the better side in Saturday's absorbing quarterfinal but they may need to find that extra gear if they are to add the European Championship to the World Cup they won in 2014.
It's a gear they definitely have. After a tense and tactical opening period, the world champions improved in the second half, regaining some of the fluidity they showed in their round of 16 victory over Slovakia. But Joachim Löw will surely be concerned that with a little more composure from the spot, Italy could be the team travelling to Marseille for Thursday's semifinal.
The fact Germany came so close to packing their suitcases can be at least partly attributed to Löw. His decision to drop Julian Draxler, who impressed so much in the Slovakia game, for Benedikt Höwedes and move to a 3-5-2 formation to mirror Italy's was a negative one, primarily designed to stop Italy's wing backs who have looked so dangerous throughout the tournament.
In that respect it worked. Neither Mattia De Sciglio nor Alessandro Florenzi really threatened. But it also meant Germany lacked pace in the final third and struggled to find a way through for large parts of the game despite dominating possession.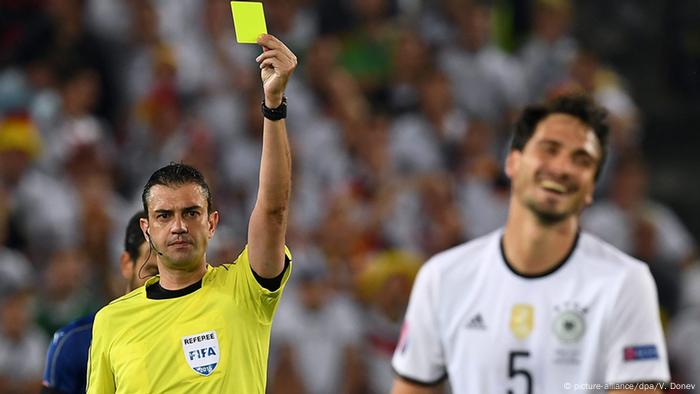 Mats Hummels will miss the semifinal after two bookings
That being said, but for Jerome Boateng's inexplicable decision to throw his arms in the air and Mario Gomez' equally baffling decision to spurn his greatest strength - a free header in the box - in favor of one of his weakest points - a sure touch in confined spaces - Germany would likely have seen the game out comfortably.
Perhaps the end justified the means but should the world champions – a team that Italian coach Antonio Conte rightly described as "the most complete side in the world" before the game – be reduced to trying to nullify the opposition rather than maximizing their own attacking potential? Probably not.
Make no mistake though, Italy are a serious team and Conte wrung every ounce of ability and heart from his players. This was easily Germany's biggest test of the tournament and -however they did it – they passed.
Jerome Boateng handled to give Italy a second half penalty
Löw has some big decisions to make now though, with Mats Hummels' booking meaning he'll miss the semifinal. Will Löw stick with the three man defense he employed on Saturday, even without the new Bayern Munich man? Most German fans will hope not after Saturday's display.
The other big decision concerns the man who spurned the chance that would've taken the game away from the Italians - Mario Gomez. While he wasn't at his most effective, the impact when he was withdrawn - and before he was brought in to the side in the second game of the tournament - was tangible, occupying defenders and providing space for the men behind him. This is one decision that may be taken out of Löw's hands, with Gomez hobbling off late in the second half. Germany have no-one else who can do what he does.
However Löw chooses to answer the conundrums, Germany remain tournament favorites. They are the best side in the competition and they know what it takes to win an international tournament. Come Thursday, both coach and players need to act like it, whether their opponents are hosts France or minnows Iceland.
Would you like to add your comments? You can do so below. The thread stays open for 24 hours after publication.