German Foreign Minister Frank-Walter Steinmeier had to face some bad news from a somewhat unlikely place this week just as he was getting ready to wrap things up in time for the probable end of his tenure: Iran messed up the top diplomat's plans to bring a treasure trove of international art from Tehran's Museum of Contemporary Art (TMoCA) to Berlin.
Iranian President Hassan Rouhani himself reportedly refused to sign export papers needed to exhibit the masterworks in the German capital city after the German government had invested months into planning and negotiating the politics behind the spectacular art show, which was supposed to present highlights from the deposed Iranian royal family's personal collection.
Empress-consort Farah Diba Pahlavi had acquired the majority of the priceless artworks, including masterpieces of European and American modern art, less than three years before the Islamic Revolution of 1979, after which large sections of the collection were locked away in vaults.
It would appear that despite the utmost diplomatic efforts these great works of art will now remain hidden from view - at least in Berlin.
The 'diplomacy of culture' versus no culture of diplomacy
Many Germans regard Rouhani's personal intervention in what was likely going to be a rare sensation in both the realms of art and politics as a deliberate snub against them - and an unexplainable one for that matter. For things had looked so promising after the signing of the July 2015 nuclear deal framework with Iran, of which Germany was also a participant: Iran's role in the world was changing; there was even talk of giving Iran a more constructive role in dealing with the various crises of the Middle East.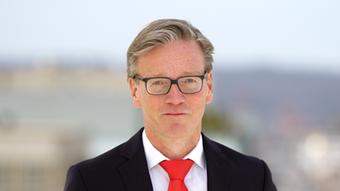 DW's cultural correspondent Gero Schliess
The lifting of economic sanctions appeared to herald a new era that would open the country to the West. Even if part of that was wishful thinking, at least it was conceivable.
It was within this idea of a new beginning that Steinmeier had assumed he could attempt to bring the TMoCA artworks to Berlin. Not London, Paris or Rome, but Berlin.
He thought he could achieve what others couldn't, something he referred to as the "diplomacy of culture." And thus and in Steinmeier's presence, a contract was signed between the TMoCA and Berlin's "Prussian Cultural Heritage Foundation" (Stiftung Preussischer Kulturbesitz – also known as SPK) - one that was likely set up to fail from the beginning.
Politics as usual
After numerous attempts to get the Iranian bureaucrats to do their part and issue the required export permits, the SPK finally had to cancel the exhibition earlier this week. Many people wonder whether the German partners involved in the planned exchange were perhaps too naïve in the way they had approached the project, and whether a cultural endeavor like this was the right vehicle to try to build trust between nations as part of a greater framework of overall rapprochement.
In retrospect, only one thing appears to be clear: Both Steinmeier and the SPK bit off more than they could chew. Against the backdrop of years of animosities between the West and Iran only something short of a miracle could have made that art show happen in the end. Not only would the implementation of the exhibition have been a major success for German diplomacy but it would also have placed some considerable demands on Iran to signal commitment to further tear down the remaining walls between it and the West.
But the all-too-powerful, conservative elements within the Iranian parliament were apparently not willing to do that, as the notion of rapprochement has been hotly debated among Iran's political leadership for decades - typically resulting in outright rejection in all instances.
Writing on the wall
But Steinmeier should have known that he was going down a wrong path much sooner, for instance when the Mullah regime decided to launch a creativity competition for Holocaust-caricatures shortly after signing the cooperation papers with the SPK, as the bizarre contest - another Iranian exercise to deny and ridicule the mass genocide of European Jews during World War II - was designed to involve the then-director of the TMoCA, Majid Mollanoroozi. Mollanoroozi withdrew his participation in the end - after continued political pressure from Berlin.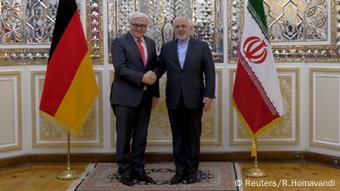 German Foreign Minister Frank-Walter Steinmeier is seen here with his Iranian counterpart, Javad Zarif
That pressure was felt within Germany too, with Germany's Federal Government Commissioner for Culture and the Media, Monika Grütters, departing from the initiative to bring the Iranian art collection to Germany as well.
Steinmeier meanwhile continued to believe steadfastly that he had a mission to fulfill and remained on board. This brand of tenacity may well be a strength that usually works in Steinmeier's favor - but it does not protect him from making mistakes.
What's left of his vision and resolve is nothing but a pile of ruins - not a good place to start for whoever may take over Steinmeier's office next year (when he is likely sworn in as the next German President).
Steinmeier's legacy
Perhaps he had no choice but to partake in this diplomatic gamble. If it had succeeded, the exhibition would certainly have contributed to cementing Germany's special relationship status with Iran, which produces political and economic benefits for both parties. After all, Germany has become internationally renowned for its good relations with the Mullah regime, which Steinmeier played a major role in crafting in the first place.
It's not all doom and gloom though: Steinmeier leaves behind some dependable cultural structures between Iran and Germany that will continue to serve this special relationship in the future. There's a Goethe-Institut in place in Tehran, and it looks like it is there to stay. Meanwhile academics from various German institutions, including the German Academic Exchange Service (DAAD) and the Humboldt Foundation, are seeking to establish an ongoing exchange with their Iranian counterparts.
And a cultural agreement between Germany and Iran is finally ready to be signed into effect - however, the Iranian parliament will still have to ratify it first.