The list of targets for a group of online plagiarism hunters is long: over 200 doctoral theses have been flagged by the Internet platform PlagiPedi for a more thorough inspection of their originality. Doctoral theses by famous personalities such as Chancellor Angela Merkel, former Chancellor Helmut Kohl, and Deutsche Bank head Josef Ackermann are among those slated for a closer look.
Exactly who is behind the online hunt for plagiarists is unknown. Most work with pseudonyms, such as "Dr. Martin Klicken" who takes care of media requests. Klicken answers most questions in writing, and does not want to reveal his real name.
He says he's from northern Germany, has a PhD in engineering and is planning a career in research.
"Unfortunately, a person who uncovers these things often gets a reputation for being a whistle-blower in certain fields," says Klicken. "As long as that's the case, I don't see any reason to put my career as a an academic on the line. A pseudonym offers a certain amount of protection."
Volunteer service
Up to 1,000 volunteers like Klicken took part in the review of the thesis of Germany's former defense minister, Karl-Theodor zu Guttenberg. Within a few days, the online group documented countless passages from other works in Guttenberg's thesis that had not been cited properly.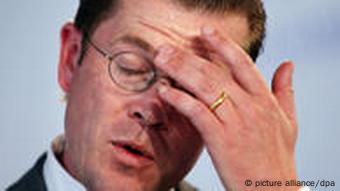 A plagiarism scandal cost Guttenberg his job
The revelation was part of the scandal that led to Guttenberg's doctoral title being revoked and his resignation from his post as defense minister.
Taking part in PlagiPedi is open to anyone, and the results are double-checked by several helpers. The most important tool for the plagiarism checkers is the search machine Google. Suspicious passages that appear in a thesis without citation are typed into Google to search for parallels in other texts.
Most of the workers taking part in PlagiPedi likely come from the field of academia: students, doctoral candidates, and doctoral degree holders - people like Klicken, who are frustrated by plagiarists who devalue doctoral degrees.
Welcomed support of online community
Professional plagiarism researchers, like communications professor Stefan Weber, welcome the Internet activists' work.
"It is an important correction to what the university have messed up in the past few years," Weber said, adding that such precise controls didn't previously exist for plagiarism.
"Suddenly the online community is [executing these controls] with a meticulousness that isn't possible for a single person. I think that's a good thing."
Weber has for years worked with universities and employers to examine doctoral theses for plagiarized passages. He thinks the cases that have so far been made public are just the tip of the iceberg.
"Every year there are probably dozens, if not hundreds, of plagiarism cases," he said.
Quality control
But Weber adds that the plagiarists aren't the only ones to blame. University professors who advise doctoral candidates share some of the burden of responsibility.
"There are professors who are getting on in years and a little tired of their jobs," Weber said. "They begin to give less thorough readings of the works and evaluate them very superficially."
Laziness may also play a role - as does modern technology, which some professors might not grasp especially well.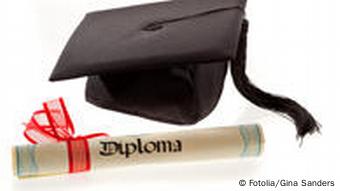 Professionals like Weber are hoping for better quality control at universities
"It's nearly always older advisors," Weber said. "Some of them don't know much about the Internet, Google, or Web 2.0."
That leads to doctoral theses that are copied or rewritten from the Internet.
Weber is calling for more steps to be taken to ensure quality control at Germany's universities. They could include the digitalization of research papers, using external thesis advisors or creating a delegate for academic honesty at universities.
Weber shares those hopes of improvement with the online plagiarism hunters at PlagiPedi. After all, plagiarism affairs like the one that brought down Guttenberg damage the credibility of German doctoral titles - and of German universities.
Author: Nils Naumann / mz
Editor: Nancy Isenson