German Free Democrat Silvana Koch-Mehrin has resigned her post as vice president of the European Parliament and head of the German Free Democratic Party (FDP) in Europe, after allegations surfaced that she plagiarized parts of her doctoral thesis.
"I regret this decision, but I respect the reasons behind it and I'm confident that she will continue to shape European politics," the foreign minister and outgoing FDP leader, Guido Westerwelle, said on Wednesday in Berlin.
Koch-Mehrin's decision to step down follows an article in German daily Tagesspiegel, which revealed that the University of Heidelberg is investigating allegations made by activists on the VroniPlag Wiki website.
The website states that its contributors had found that Koch-Mehrin had copied material without attributing it on 56 of the 201 pages of text in her 2001 thesis on the 19th century Latin Monetary Union in Europe.
Fresh start
"I hope to make it easier for my party to make a fresh start with a new leadership team," Koch-Mehrin said in a statement, without admitting to or commenting on the allegations.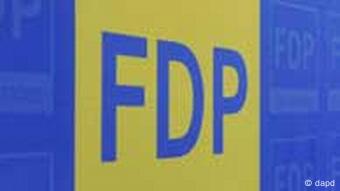 The FDP's popularity has slumped to a record low
Koch-Mehrin's announcement comes ahead of the FDP's party convention at the weekend, which will see the election of a new party leader as well as a reshuffling of several cabinet posts. The party has slumped to around four percent in the polls since gaining 14.6 percent of the vote in the 2009 federal election.
Guttenberg effect
Koch-Mehrin's resignation follows that of former Defense Minister Karl-Theodor zu Guttenberg on March 1. The University of Bayreuth, who stripped him of his title at the end of February, confirmed last week that Guttenberg "deliberately cheated" in his thesis, while he continues to admit only to sloppiness and carelessness, caused by the stress of trying to combine his job as a politician with family life.
Prosecutors in the Bavarian city of Hof are investigating him on charges of infringement of copyright.
Author: Nicole Goebel (dpa, dapd)
Editor: Chuck Penfold