The eastern Greek city of Alexandroupoli (population of 60,000) is buzzing. Local business owners are experiencing the kind of booming summer even the big Aegean Islanders would be happy with. Here, it's tourist season all year round.
"We live mostly from Turkish tourists," explains seafood restaurateur Kyriakos Stogios. "We didn't know what to expect from them at first but now we know their presence is the best thing that could have happened to us."
His restaurant is not located on the town's busy waterfront yet it is very popular with wealthy Turkish business people and officials, who are only too eager to spend their lira there when they visit.
Last year, Turkish guests accounted for 80 percent of the sales in Alexandroupoli. And even though the Turkish lira has plummeted in value recently, business people in the town don't expect any major changes to that state of affairs. According to them, well-heeled Turks are still making the short journey over the border on a daily basis to spend money in the city.
An Erdogan-free zone
Yet these are not exactly typical Turkish consumers. Damianos Makarios has worked as a waiter in Alexandroupoli for 18 years and at this stage, he has a keen sense of his guests.
Read more: Turkey's Recep Tayyip Erdogan in historic Greece visit
"When someone pulls up in a car worth €140,000 ($160,000), you know the type of customer you are dealing with," he says. "I used to assume they were all Erdogan supporters but actually most are not. And despite the fall in value in the lira, they can still eat for less here than in Izmir or Bodrum."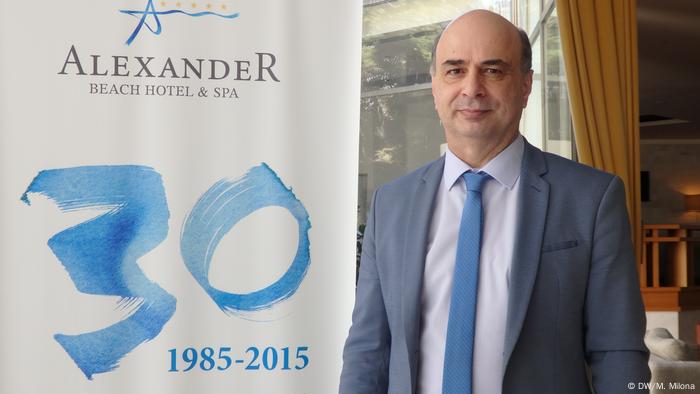 Hotel manager Dimitris Xanthoulis has many Turkish guests
One of the things that draws Turks to Alexandroupoli is the fish, served in the Greek mezedes style — small plates of food, not unlike the style of Spanish tapas. They also come for a hassle-free beer or two, much cheaper here than in their Muslim homeland.
Sometimes, the guests like to open up on political matters at home, says Makarios. "There was a group here recently who saw Erdogan pop up on the Greek news," he said. "They started shouting - 'Turn it off, we don't want to see him!'"
All that you can't have
Hotelier Dimitris Xanthoulis, who owns a five-star facility in the town, says his Turkish guests are there to gamble. "There is a casino located right beside our hotel and with gambling banned in Turkey, Alexandroupoli has adapted cleverly to the demand," he says. In the hotel sector in the town, Turkish tourists are providing half the business at present.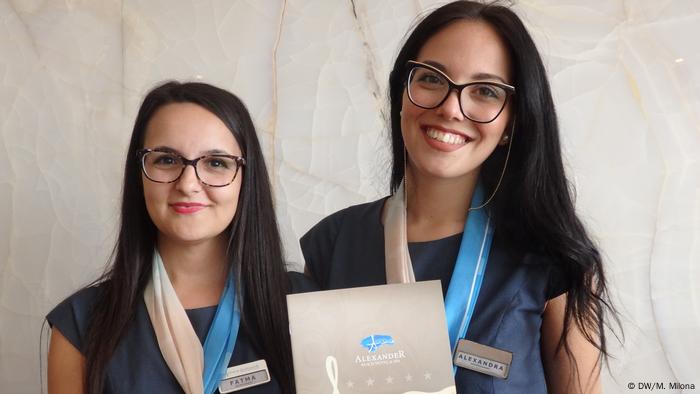 Hotel workers Fatma Selim and Alexandra Maladaki speak Turkish to guests in Greece
Xanthoulis has noticed a dip in revenue of around 10 percent since the lira crisis hit and understands that his guests are being careful with their dollars and euros, given the situation. But he says they are hopeful that the country will not face any damaging foreign sanctions.
Chimes of freedom
Yet, even though the tourists are on Greek soil, they are not enthusiastic about speaking to journalists. Most are wary and want to go unnoticed. Onur Mustafa, a regular in Alexandroupoli, spoke to DW, but only on condition of anonymity.
"I come from Istanbul, a city of 15 million people," he said. "But with Alexandroupoli only 2.5 hours from my house, we can come here and be Oriental and European at the same time. There are two types of Turks. Those who are very poor and who don't really know what is happening, and those who are rich, modern and very well-informed."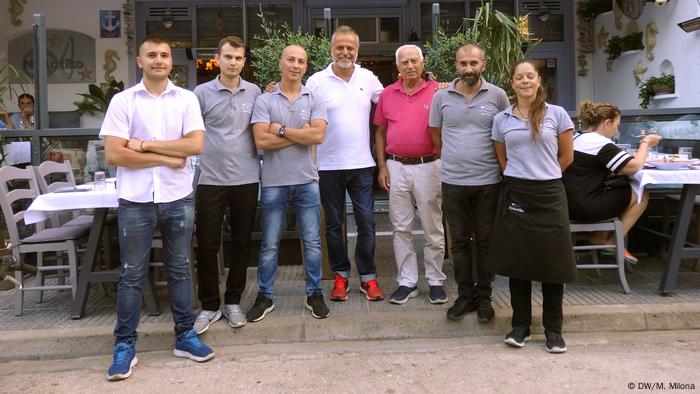 The staff at Kyriakos Stogios' tavern are well used to Turkish visitors
Onur has faith in the Turkish economy. He believes in the country's manufacturing abilities, especially in the electronics and textile sectors. As well as that, he thinks the currently cheap price of Turkish exports is a good thing for the country.
Europe on my doorstep
In this young man's opinion, the Turkish lira crisis will not last long. But he also admits that one of the reasons he is holidaying in Greece, as opposed to other European destinations, is because he can drive there and avoid expensive airfares. "Traveling by car to Europe is certainly much cheaper for me," he says.
Yet the fact remains that for as many as 20 million wealthy Turks, a weak lira will not stop them enjoying the finer things in life, he claims. Kyriakos Stogios can vouch for that. "We have not felt the crisis here in Alexandroupoli and for that we must be thankful for our Turkish neighbors."