People in Odessa are at a loss as to how catastrophic events on Friday (02.05.2014) unfolded. There are still more questions than answers.
More than 40 people died in clashes between pro-Russian and pro-Ukrainian activists in the southern Ukrainian city. Most of them died in a fire in a trade union building. Ukrainian Interior Minister Arsen Avakov said on Tuesday (06.05.2014) foreign experts were to take part in the investigation.
Contrary to the regions in Ukraine's east - Donetsk and Luhansk - where armed pro-Russian activists have increasingly gained control of towns and administrative buildings, Odessa seemed to have stayed calm. At least there was no fighting with military helicopters and tanks.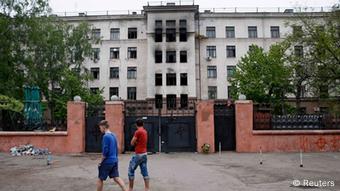 This trade union building in Odessa was the site of recent street battles that left more than 40 people dead
But anger has been lurking just below the surface for a long time. Unidentified men removed Ukraine's blue-yellow flag from the town's regional administrative building on March 1 and replaced it with the region's flag. But authorities later put back the Ukrainian flag.
Push for more autonomy?
Little-known pro-Russian organization "Young Unity" called for a referendum on more autonomy for the region. The organization's leader, 28-year-old Anton Davidtschenko, was arrested by Ukraine's secret service SBU in mid-March and remains in custody.
In mid-April, pro-Russian forces reportedly proclaimed a "People's Republic" in Odessa as they had previously done in Ukraine's east. The activitis denied this just one day later, saying they instead wanted to push for more autonomy within Ukraine.
According to a poll conducted by Kyiv's Institute for Sociology, more than three-quarters of Odessa's citizens do not favor joining Russia, and only 7 percent do. The poll was commissioned by Kyiv weekly "Dserkalo tyschnja" and published in mid-April.
For months, Odessa has been dealing with demonstrations from pro-Russian as well as pro-Ukrainian activists on a weekly basis. But usually only a few hundred or some thousand people take to the streets. Up until recently, there were no riots, but the situation has changed dramatically. Instead of throwing eggs on their opponents, some of the pro-Russian demonstrators took up guns on May 2, killing several pro-Ukrainian activists. Death threats have been published online.
Large Russian ethnic minority
Odessa might very well turn into the next crisis spot after Donetsk and Luhansk. Similar to the Ukrainian peninsula Crimea, which was seized by Russia in March, Odessa also plays an important role in Russian history. Odessa was founded in 1794 under the reign of Catherine the Great and quickly emerged into a thriving trade city. The city with its sandy beaches has been described as "the pearl of Black Sea" in numerous Russian songs. Ukrainians make up two-thirds of the population, while 30 percent of the people here are ethnic Russian.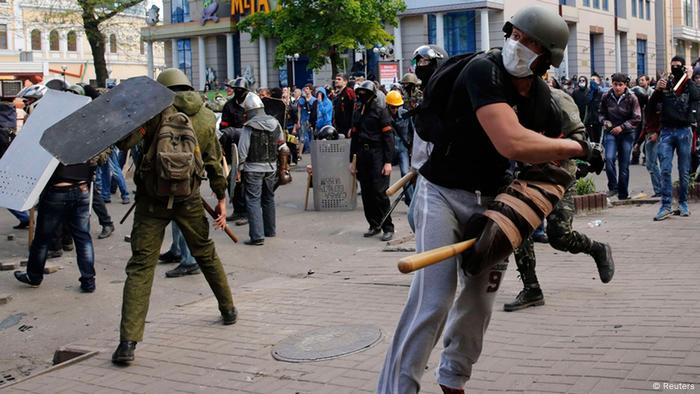 Pro-Russian activists clashes with supporters of the Kyiv government
Odessa is the third largest city in Ukraine and the most important Black Sea port in the country. From there, key export commodities such as wheat, coal and steel products are shipped all over the world. It is also where the oil pipeline to Brody in western Ukraine begins. The pipeline is actually supposed to pump Caspian oil to Europe. So far, however, it has only been used in the opposite direction for Russian oil deliveries.
Because Kyiv also wants to be less dependent on Russian gas, it plans to build a terminal for liquefied gas in Odessa.
Loss of Odessa to devastate Ukraine
Last but not least, Odessa has military significance. After losing its base in Sevastopol in Crimea, Ukraine aims to make the port city the new base for its navy.
All these plans could be in jeopardy should the Ukrainian government lose control of Odessa. Experts in Kyiv warn that the loss of Odessa would have far more serious consequences for the country's economy than the threatening loss of eastern Ukraine.
According to Ukrainian media reports, hundreds of pro-Russian activists have taken trains and buses from Crimea to Odessa, with the aim of destabilizing the situation in the Black Sea city. Many people in Odessa are concerned when they think about Transnistria just 100 kilometers away. Russian soldiers are stationed in the breakaway Moldavian region.
From Transnistria and Crimea, Moscow could attack the entire southern part of Ukraine. The battle for Odessa is likely to escalate in the days and weeks ahead.