Hashem Babar, provincial general secretary of the ruling pro-Pashtun party, the Awami National Party, or ANP, says that his party has been struggling for the name change for decades. "For the last 63 years we have been struggling for this," says Babar.
"We have been demanding that the province be given its old name of Pakhtunkhwa again. This is the name which the inhabitants of this province have been demanding for a long time as well."
"Pakhtun" and "Pashtun" refer to the same ethnic group; these are just two pronunciation variants of the language Pashto - which is also called "Pakhto". Most of Pakistan's Pashto speakers live in the Federally Administered Tribal Areas or FATA, in Khyber-Pakhtunkhwa and in Balochistan.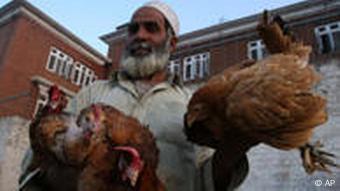 A Pashtun sells chicken to earn living for his family in Peshawar
Struggle for Pashtun identity
There are two large Pashtun nationalist parties in Pakistan: The ANP, which has most of its supporters in Khyber-Pakhtunkhwa and the Pakhtunkhwa Milli Awami Party, or PMAP, which is mainly based in Balochistan. Both parties say that the latest renaming is not the end of their struggle. They are also demanding autonomy from Islamabad in all affairs except foreign, defense and currency.
"There was a united Land of Pashtuns which was divided by the British in the 19th century," explains PMAP leader and member of Pakistan's Senate Abdul Rahim Mandokhail.
"Now we want to unite the Pashtun areas of Balochistan with the NWFP and the tribal areas once again. We demand that the new large province should then be called Pakhtunkhwa. If this demand is not acceptable then there should be two Pashtun Provinces: South Pakhtunkhwa in Balochistan and North Pakhtunkhwa in NWFP and FATA."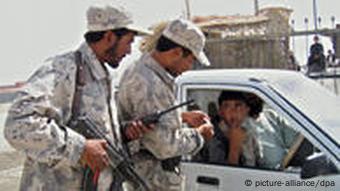 Pakistani paramilitary soldiers check a vehicle as it crosses into Afghanistan through Chaman border
Militant activities
The FATA are considered a haven for militant Islamists and the location of training sites for international terrorist organizations like Al-Qaida. Hashem Babar of the ANP says that full democracy is the only solution in these Pashtun-dominated areas:
"We demand that the FATA should become a normal part of Pakistan, as the other provinces. The people there should also get basic human rights, courts and other basic facilities. Political parties should be allowed to work in these areas. Bringing democracy there will also solve the problem of terrorism and extremism."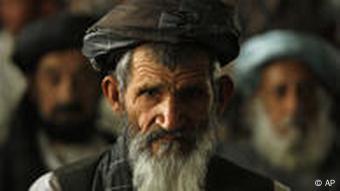 The Pashtuns are the largest ethnic community in Afghanistan
Afghan Pashtuns
The Pashtuns of Afghanistan, who are the largest ethnic community in their country, have another vision of Pakhtunkhwa. Afghan writer Nangilai Bazarkai says that the border between Afghanistan and Pakistan, the so-called Durand Line, was never accepted by the Afghan people or any Afghan ruler.
"The Durand Line was imposed on Afghans and divided them into two parts. Afghans have never accepted this unnatural line which has separated families. Pashtuns were never happy with this."
According to Hashem Babar, Pashtuns on the Pakistani side don't accept the Durand Line either. But they have a more realistic solution for that problem, he says:
"There should be no border between the Afghan and Pakistani Pashtun areas. There should be two countries Pakistan and Afghanistan as they are, but no visa should be needed between the Pashtun areas. Such a visa-free solution is already working very well in Europe."
But as non-Pashtuns on both sides of the Durand Line are skeptical and the region is facing a host of other problems, the new province of Khyber-Pakhtunkhwa is probably all that Pashtuns will get for now.
Author: Wali Achakzai
Editor: Grahame Lucas