Stevo Pendarovski won North Macedonia's run-off presidential vote on Sunday, eking out a win for the ruling coalition.
The pro-Western candidate won 51.7% of votes, with 99.5% of the vote counted, the State Election Commission said.
Gordana Siljanovska-Davkova, from the nationalist VMRO-DPMNE took 44.7% of the vote.
"The victory of this concept brings a future for the republic of North Macedonia and it's our ticket to Europe," Pendarovski told reporters.
Prime Minister Zoran Zaev said: "As of today no one can stand in the way of progress. We showed we are ready for Europe."
Name change a major focus
The runoff election focused on the name change deal with Greece.
The hotly contested vote pitted Pendarovski, backed by the ruling Social Democrats, against his nationalist-backed rival.
Turnout for what State Electoral Commission head Oliver Derkorski called a "peaceful and dignified" election stood at 42.8% of registered voters just after polls closed at 7 p.m. local time (1700 UTC).
Pendarovski had earlier urged people to vote for his concept of "moving forward for all citizens of Republic of North Macedonia, all ethnicities regardless of religion, nationality or political party."
His rival, Siljanovska-Davkova, said she would end the "political winter in Macedonia."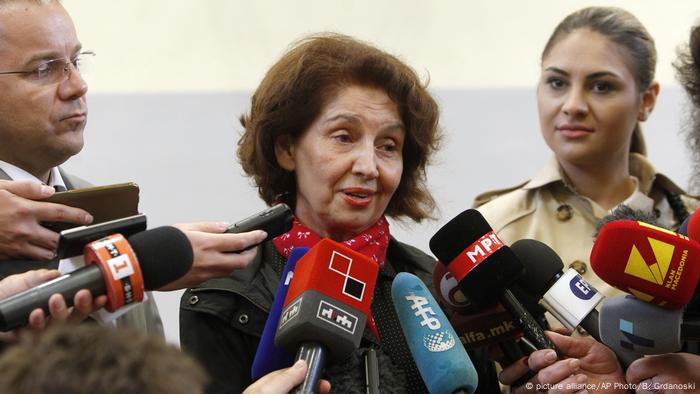 Gordana Siljanovska Davkova
Both picked up about 41% of the vote each in the first round, which saw the ethnic Albanian-backed candidate Blerim Reka squeezed out of the race.
The three-way presidential vote in April had a record-low turnout of 41.9%, just above the 40% needed to make the poll valid.
Never-ending name dispute
The presidential vote follows the Balkan state's recent name change as part of an agreement with Greece to end a 28-year diplomatic row. In February, the word "North" was added to the country's name to differentiate it from the ancient Greek province of Macedonia. Voters approved the name change in a consultative referendum last September — albeit with a very low turnout.
Read more: North Macedonia name change both heals and divides
Athens, in return, has removed obstacles that prevented North Macedonia from becoming a member of NATO. Skopje also hopes that, with a Greek veto lifted, it will receive an invitation for North Macedonia to start EU membership talks in June.
After the election, Johannes Hahn, the European Union Commissioner in charge of enlargement, said: "North Macedonia can count on the EU's continued support for its EU accession perspective, thus responding to the strong European aspirations of its people."
The accord continues to divide Macedonians, and it has eclipsed all other issues during campaigning.
On Sunday, opposition candidate Siljanovska-Davkova said she would "respect" the official use of the country's new name, but she would also work to point out alleged legal problems with the accord.
"I will use the new name as a lawyer and law professor, but not personally," she said.
Read more: Macedonia: What's in a name?
The country's outgoing nationalist president, Gjorge Ivanov, could not run again, having already served the maximum of two terms.
aw,rc,dj/jm (dpa, Reuters, Beta, AP, Maxfaxm)
Each evening at 1830 UTC, DW's editors send out a selection of the day's hard news and quality feature journalism. You can sign up to receive it directly here.