The projectile was launched at 7:55am local time Sunday (2255 UTC on February 11) from Banghyon air base in the western North Pyongan Province - just days before the North is to mark the birthday of leader Kim Jong Un's late father, Kim Jong Il.
South Korea's Defense Ministry in Seoul said that the object flew east towards the Sea of Japan. The missile is believed to have dropped into the sea between the Korean Peninsula and Japan. Japan's Chief Cabinet Secretary Yoshihide Suga said the missile did not reach Japanese territorial seas.
South Korea's Office of Joint Chiefs of Staff said in a statement that the South Korean and the US militaries were conducting a close-up analysis of the object, which reportedly managed to travel a distance of about 500 kilometers (300 miles).
Trump and Abe signaled that they were resolute on fighting political provocations coming from North Korea
An official from South Korea's Defense Ministry said it was not clear whether the projectile was indeed a ballistic missile. Officials added that the North had launched its powerful midrange Musudan missiles on October 15 and 20, 2016, from that location, raising the likelihood that it was a missile. The South Korean Yonhap news agency reported, however, that it was not believed to be an ICBM (intercontinental ballistic missile).
A US Strategic Command spokesperson later confirmed this, identifying the missile as a medium- or intermediate-range ballistic one that did not pose a threat to the United States. However, the spokesperson added that the US "remain vigilant in the face of North Korean provocations and are fully committed to working closely with our Republic of Korea and Japanese allies to maintain security."
Meanwhile in Florida
The launch of the missile coincided with a visit of Japanese Prime Minister Shinzo Abe to the US to meet with President Donald Trump. In the light of what the Trump administration referred to as a "provocation," Trump said that the US stood "100 percent" behind Japan. Abe had earlier condemned the missile launch.
US National Security Advisor Michael Flynn meanwhile spoke to his South Korean counterpart Ki Kwan-jin, agreeing to explore all possible options to keep the North in check. Japan's top government spokesman Yoshihide Suge called the launch "absolutely intolerable" - especially seeing that the missile "was launched immediately after the Japan-US summit."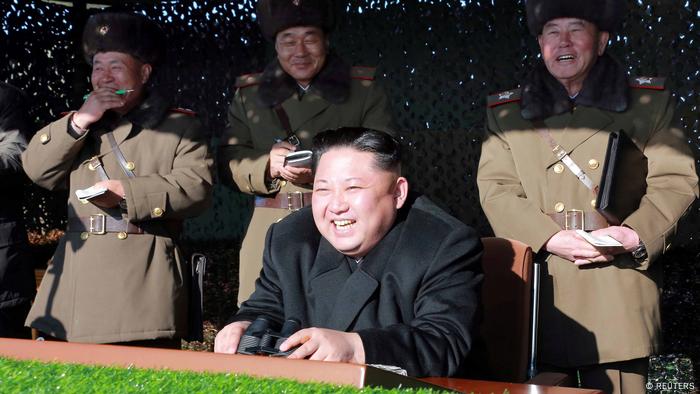 Kim Jong Un announced that in the run-up to his late father's birthday there would be be unexpected maneuvers
Suge announced that Japan would protest the North Korean missile launch through diplomatic routes - via China. As Pyongyang's main diplomatic ally, China is key to any effort to rein in North Korea's controversial missile program.
South Korean acting president Hwang Gyo-Ahn vowed a "corresponding punishment" in response. South Korea's Foreign Ministry issued the statement in response, saying the missile test was a "blatant and obvious" violation of existing UN Security Council resolutions and a "serious threat" to international security. The Trump administration mentioned that further sanctions were still likely, a statement welcomed by observers in South Korea.
However, despite the cooperation, Trump has been stumbling as he tries to balance his official policy on Asia. His immediate withdrawal from the TPP trade agreement upon assuming office made for a difficult start in cross-Pacific relations. The meeting with Abe, his recent announcement that he would support China's "one China" policy in regard to Taiwan and his tough stance on North Korea have, however, started to cast the US leader in a more favorable light in the region.
On a war footing?
South Korea's military called the launch a "show of force" by North Korea against the administration of US President Donald Trump and his hardline stance on Pyongyang.
North Korea conducted two nuclear tests and a number of rocket launches last year in ongoing efforts to apparently expand its nuclear weapons and missile programs.
North Korean leader Kim Jong Un had said in his annual New Year's address that the North's preparations for launching an intercontinental ballistic missile had "reached the final stage."
cmb, ss/jm (AP, AFP, Reuters)