The European Commission's hope to restore the Schengen system's border-free internal travel by the end of the year is looking bleak. As interior ministers met in Luxembourg Thursday, the overriding view was that it's not feasible to drop the emergency measures by mid-November when they are scheduled to end.
Schengen stays in suspense
The controls were put in place by Austria, Denmark, Germany, Norway and Sweden in the midst of the migration crisis as countries sought to manage the influx of hundreds of thousands of people. German Interior Minister Thomas de Maiziere told journalists upon arrival in Luxembourg Thursday that it's "right we should extend the possibility of border controls on a European basis." They can only be renewed up to a total of two years.
"We want to go back to a control-free Schengen," de Maiziere insists, "but for that we have to have better protection of external borders." Austrian Interior Minister Wolfgang Sobotka added that "reality" dictates a prolongation, with 50,000 refugees in Greece and many more in the Balkans. "I can hardly imagine that the system will be functioning on November 15," Sobotka said. "I think it will probably be necessary to have an extension or we have to think of other steps."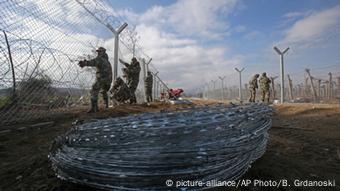 Influxes from the south will continue to be shut out of northern Europe.
Danish Prime Minister Lars Lokke Rasmussen announced already last month his government would seek to extend the emergency measures, last renewed in June.
Costs mount with controls
But prolonged blockage of free movement will be anything but free, according to a new study by the RAND Europe research Institute. Commissioned by the European Parliament to "investigate the economic, social and political costs of 'non-Schengen''', the report warns leaders the annual cost of permanently re-establishing border controls could be as high as 2–3 billion euros ($2.2-3.6 billion) every year. That's after one-time costs that could range up to 19 billion euros "depending on the timeframe."
RAND researchers examined three scenarios for Schengen's future:
1) A two-year "suspension" of the Schengen area in the five countries that have currently reintroduced border controls related to irregular migration. This option has a price tag of up to 211.5 million euros, primarily for the purchase of equipment and reallocation of human resources for checking travelers.
2) A two-year "suspension" of the Schengen Area and reintroduction of border controls in all Schengen countries at all internal borders. This would require checking all internal borders of all Schengen countries, estimated to cost between 4.39 and 7.4 billion euros, with the highest bill being paid by Germany.
3) Indefinite suspension of the Schengen Agreement in all countries. This pricy option requires rebuilding and refurbishing border outposts for full-time use, costing as much as 20 billion euros in one-time fixed costs and around 2 to 4 billion euros in annual operating costs.
RAND found crime has dropped within the Schengen area since it was expanded in 2007 and that citizens' trust in national and EU institutions has risen. Other conclusions were those often repeated by the bloc's institutions themselves: reforming the asylum system to make it easier to identify genuine refugees, strengthening external borders and sharing more information among police and judicial agencies.
Amnesty decries deals with dictators
But all these plans to more effectively keep people out are disheartening for Amnesty International's Iverna McGowan, who criticizes the pending agreements. She describes them as the "large-scale prioritization of migration control, continuing what is an unsustainable strategy to solely focus on stopping people coming." McGowan insists the EU focus on establishing safe and legal migration routes.


Interior ministers are discussing agreements with Ethiopia, Mali, Niger, Nigeria, and Senegal that involve - openly acknowledged by some member governments but not the European Commission - the exchange of funds to be used for development in exchange for progress to block migrant outflows and take back failed asylum-seeker citizens.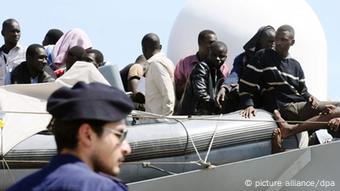 Rejected African asylum-seekers would be sent back more readily under new EU deals.
McGowan says this is a degrading deal for the needy. "If there were first on the table resettlement places on a scale that was acceptable, if there were legal channels," she explained, "then we could talk about migration control and management in a broader, human-rights compliant sense. But at the moment what's on the table for African countries is no legal means and no resettlement, just keep people there at all costs. And the message being given is, frankly, 'we don't care what happens afterwards.'"
She says EU officials' claims that the EU-Turkey deal is a great success on which to model the new African agreements is a sham which she will witness in person next week when she visits the Lesbos, Greece holding areas full of people with nowhere better to go.