There has been yet another arrest linked to a $2 billion (1.9 billion euros) arms deal currently under investigation by Nigerian authorities.
The Economic and Financial Crimes Commission (EFCC) said on Tuesday that a former Nigerian junior finance minister, Bashir Yuguda, had been arrested in connection with the deal with the former National Security Adviser, Sambo Dasuki.
Dasuki's arrest was ordered by President Muhammadu Buhari on November 17.
Dasuki, a former army colonel, is accused of awarding the $2 billion in bogus deals for fighter jets, helicopters, weapons and ammunitions that were never delivered. He denies the charges.
Both Yuguda and Dasuki were officials under Buhari's predecessor, Goodluck Jonathan, when his Peoples Democratic Party (PDP) was in power.
Others detained included Attahiru Bafarawa, former governor of Sokoto state in northwestern Nigeria (1999 -2007) and the media magnate Raymond Dokpesi.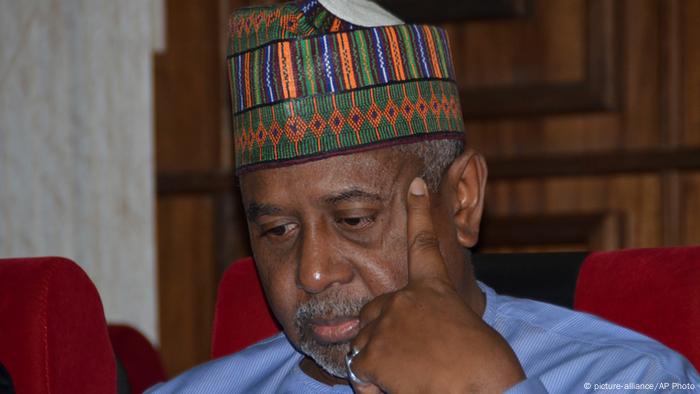 Sambo Dasuki, a former national security adviser under President Jonathan, was arrested in November
One local media source said 25 people had been arrested since the investigation began.
'We are careful in what we are saying'
PDP spokesman Olisa Metuh told DW that the party "felt that the process was dented. We are not completely satisfied with the process they are taking. Any investigation must be open and anybody is termed to be innocent until the contrary is proved. The impression the EFCC gave in their statement was that they [those arrested] were already guilty."
Asked whether he thought the detained were targeted because of their links with the PDP, Metuh replied: "We are careful in what we are saying. Let the rules of the game be respected."
President Buhari swept to victory over Jonathan and the PDP after campaigning on an anti-corruption platform. His All Progressives Congress (APC) became the first opposition party to win an election in the country's history.
Buhari said last month the rampant fraud in the military's procurement process meant that Nigerian troops were denied weapons to fight the Boko Haram Islamist insurgents and that thousands of lives were lost.
In August, Buhari vowed not to interfere with the work of the country's anti-corruption bodies. He made a statement denying an allegation by senators of the PDP that his government was being "selective" and partisan in its anti-corruption crusade.
Buhari's anti-corruption drive since taking office in May has included replacing all top military personnel and sacking key officials from the country's giant NNPC oil firm.
Liz Donnelly, an expert on Nigeria with the Chatham House think tank in the UK told DW steps to tackle corruption in Nigeria have always been dogged by such claims of politically motivated arrests and allegations. She cautioned, though, that "the perception of politics around the arrests is probably the biggest threat to the anti-corruption fight and the biggest threat to the investigations."
Ubale Musa and Fred Muvunyi contributed to this report