Clashes between nomadic herdsmen and farmers over land claim hundreds of lives in Nigeria's central region every year.
In one such incident, gunmen killed at least five people and burnt several houses in Kadunung village in Nigeria's Plateau state, in September 2015, police said.
The largely agrarian Christian communities in the state maintain the predominantly Muslim Fulani herdsmen are engaged in a prolonged battle to take over land from the areas of so-called indigenous people.
Fulani leaders counter that their people face discrimination as "foreigners" in Plateau and are deprived of basic rights, including access to land, education and political office, even though they have lived in the area for generations.
There is the worry that this problem is being exacerbated by climate change.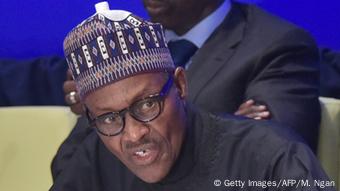 Nigerian President Buhari:'fully aware of acute threat'
Desertification, which has Nigeria's northern neighbor, Niger, firmly in its grip, is also forcing herdsmen in Nigeria to migrate southwards.
"The herdsmen who used to depend on the green they had in past had to start moving down to the Middle Belt areas," Philip Jakpor from Friends of the Earth, Nigeria, told DW.
The Middle Belt is a loosely defined area between the Muslim and Hausa-dominated north and the predominately Christian Igbo and Yoruba areas of the southeast and southwest of Nigeria.
'Wider implications of climate change'
Bennet Pam from the village of Dogo Nahawa recalls how his family was decimated when Fulani herdsmen came to their house one day at 3 a.m and started shooting."I lost my father and my mother. I lost one brother and three sisters," he said.
Jakpor of Friends of the Earth said the conflict between herdsmen and farmers was one of the "wider implications of climate change we are suffering from in Nigeria."
But climate change expert Olukayode Oladipo, who helped the Nigerian government prepare for the UN climate change conference in Paris (COP 21) which opened on Monday (30.11.2015), told Inter Press Service (IPS), a news agency focusing on development, that climate change "is not the only determinant" of the conflict over resources, "but it is at least adding to the degree and frequency of the occurrence of these conflicts."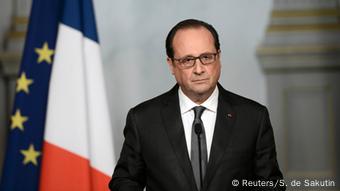 French President Francois Hollande said the resource conflict means peace 'is at stake at the climate conference'
The encroachment of the Sahara is also helping to fuel the insurgency by the jihadist group Boko Haram, while the rise in ocean levels and flooding were also affecting the south of Nigeria.
A statement released by the Nigerian government to coincide with the opening of the UN climate change conference in Paris said that President Muhammudu Buhari, who is attending the meeting, "was fully aware of the acute threat that climate change poses to Nigeria's development through flooding, desertification and insecurity."
Nigeria is Africa's fourth largest emitter of carbon dioxide, one of the gases in the atmosphere that scientists blame for global warming and climate change.