Nigerian President Muhammadu Buhari on Monday declared he would run for re-election next year.
He will seek his ruling All Progressive Congress (APC) party's ticket to contest the 2019 election.
Buhari indicated his intention to run for a second four-year term during a closed-door national executive meeting of the APC party; however, the public announcement first came over Twitter.
The decision put an end to months of speculation concerning the future of the 75-year-old's political career following bouts of an undisclosed illness.
Buhari spent a significant amount of time in Britain last year on medical leave, leaving Vice President Yemi Osingajo to lead the country. His time abroad sparked strong criticism from opposition groups, who accused him of being unfit for office and leaving his administration in a state of inertia.
President Muhammadu Buhari meets with members of the Nigerian government after returning from London where he received medical treatment in March 2017
Supporters back second term for Buhari
"Victory is sure by the grace of God and together we must continue to sanitize Nigeria's political environment," Buhari said in a statement issued by the presidency.
On March 1, the APC party passed a vote of confidence in Buhari, although at the time it denied that this meant it was endorsing the president for a second term.
Presidential spokesman Garba Shehu told DW that support for Buhari's re-election remains strong.
"There has been this huge clamor from all over the country from party men, non-party men and prominent citizens for him to give it a second shot."
Shehu acknowledged that there is still a lot of work to be done, particularly with regards to ending graft in Nigeria.
"Everyone agrees that corruption is a major problem for this country, and President Buhari has been doing an excellent job [tackling] this — on account of which his peers in the African Union agreed that he would be the champion of corruption this year for the whole continent of Africa."
"The president is a friend of ordinary Nigerians who see him as an honest leader," Shehu added.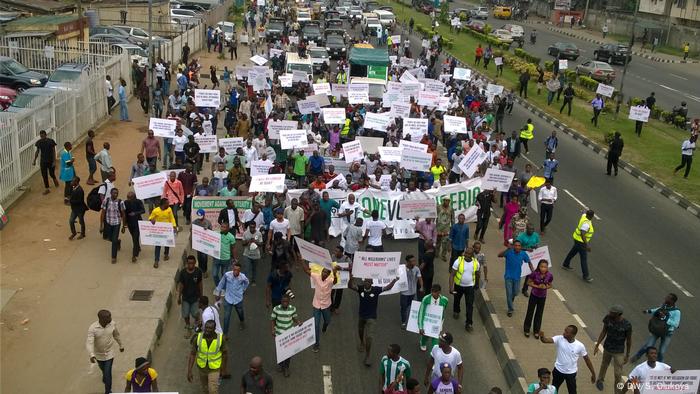 Demonstrators protest against President Muhammadu Buhari in Lagos in 2017. Many Nigerians believe Buhari has not done enough to solve the country's problems
'Baba Go-Slow'
But not all Nigerians share the same enthusiasm for President Buhari. He is often jokingly called "Baba Go-Slow" by Nigerians due to his perceived lackluster leadership style.
"Everybody has been complaining about his performance, everyone complains about it bitterly except for those close to him," one voter told DW. "But we, the common people, we complain about it. His performance is not to our expectations."
Another local resident believes Buhari has done little to bring about promised change in Nigeria, and someone else should be given a chance.
"The change which he promised to bring [has not come about]. I believe he should just give up on the election. Give the chance to another person, because everything has gone downhill and we need change."
Read more: Nigeria's youth 'ready to run' for political office
Reformed military leader
Buhari defeated former President Goodluck Jonathan of the People's Democratic Party (PDP) in 2015, with his campaign focusing largely on tackling widespread corruption in Nigeria. His win marked the first time in Nigeria's history that a sitting president lost to an opposition candidate in a general democratic election.
While his supporters credit Buhari with pulling Nigeria out of last year's recession, he has also been criticized for worsening the economic situation in the first place by introducing a currency peg which drove away investors and depleted foreign reserves.
The APC government has made some gains against the extremist group Boko Haramduring its time in office. However, Boko Haram continues to stage attacks against civilians and the military, especially in the northeast of the country.
Buhari had previously served as a general and military head of state between 1983 and 1985 after taking power in a military coup. He has since described himself as a "converted democrat."
Nigeria's political parties must officially select their candidates for the 2019 general election between August 18 and October 7 this year. The election is set to take place on February 16 2019.
Adrian Kriesch and Ubale Musa contributed to this piece