President Muhammadu Buhari returned home on Saturday after three months on medical leave in Britain. He did not make any public comment upon arrival and left in a motorcade after a salute from the presidential guard.
Supporters lined the road to the airport in the capital, Abuja, to welcome Buhari as his plane touched down. He is due to address the nation in a televised address on Monday, his office said in a statement.
The 74-year-old has been receiving medical treatment in London for an undisclosed ailment since he left Nigeria on May 7.
The former general who headed a military regime in the 1980s was in London for medical treatment in June last year and again for two months in January and February.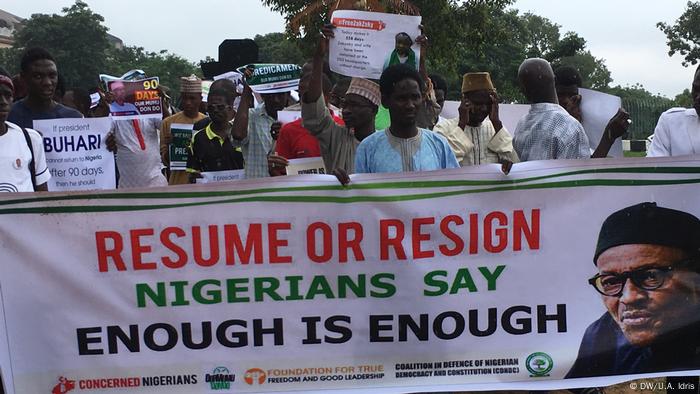 There have been protests calling for Buhari to resign if he is incapable of performing his duties.
Upon returning to Nigeria earlier this year he said he had "never been so ill" and spoke of receiving blood transfusions.
Buhari's absence has caused tension in Nigeria and led to calls for him to step down if he is unable to perform the duties of the presidency. His four-year term lasts until 2019.
Vice President Yemi Osinbajo has been acting president in Buhari's absence.
Osinbajo is a Christian from the south, while Buhari is a Muslim from the north.
Some analysts worry that a political crisis could flare up in the predominantly Muslim north if Buhari doesn't complete his term.
When former President Musa Yar'Adua died in 2009 after spending months abroad for medical treatment, his Christian successor from the south, Vice President Goodluck Jonathan, was blocked by northerners for months before being confirmed.
Goodluck was later elected in a vote that angered Muslims because it ignored an unwritten agreement that power alternate between northerners and southerners.
rs, cw/rc (AP, AFP, Reuters)