A female suicide bomber has attacked a cattle market in the city of Maiduguri in Nigeria's Borno State. She was the only person killed in the blast, police said.
The authorities also said a second woman, who was also in possession of a bomb at the Kasuwan Shanu market, was "lynched by an irate mob in the vicinity." Security forces later detonated her device.
Nobody has claimed responsibility for Monday's attack but it bears the hallmark of the Islamist militant group Boko Haram and comes just two days after President Muhammadu Buhari said the jihadist group had been finally crushed and driven from its last enclave in the Sambisa Forest.
The government in Abuja has frequently claimed victories against the jihadists but access to the conflict zone is strictly controlled making independent verification virtually impossible.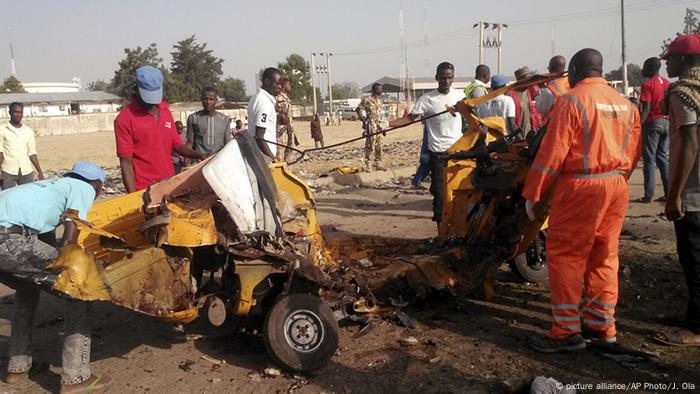 Maiduguri is frequently targeted by suspected Boko Haram suicide bombers. Workers clear away debris after an attack killed nine people on October 29
While Buhari was claiming that "the terrorists are on the run and no longer have a place to hide," the so-called "Islamic State" (IS) group, with which one faction of Boko Haram is allied, was alleging that it had carried out a successful attack on an army barracks in Yobe state which "killed and wounded many."
Ubale Musa, a DW correspondent in the capital Abuja, says Buhari has made restoring security in the northeastern part of the country one of his top priorities since taking office in May 2015.
There are reports that Boko Haram have been regrouping in Taraba and Bauchi states, south of their stronghold in Borno State, and taking advantage of a long-running conflict between mainly Muslim nomadic cattle herders and sedentary Christian farmers.
Attacks in neighboring Cameroon
At least 20,000 people have been killed since the insurgency erupted in 2009. The fighting has displaced some 2.6 million sparking a humanitarian crisis. The conflict has not only enveloped northeastern Nigeria but also spread to neighboring Chad, Niger and Cameroon.
On Christmas Day (25.10.2016) the governor of Cameron's Far North region Midjiyawa Bakari said a suicide bomber "targeting a religious site" had killed two civilians. The region, which is frequently targeted by Boko Haram, is home to Christians, Muslims and animists.