More than 20 people have been killed since Wednesday in Nicaragua in clashes between police and demonstrators at protests over planned pension reforms, the Nicaraguan Center for Human Rights said on Sunday.
The center said it was still trying to verify figures. The government has so far put the death toll at 10.
A journalist, Angel Gahona, is among those killed in the violence. Gahona was shot dead in the town of Bluefields on Saturday while livestreaming the latest wave of demonstrations against the government's planned reforms.
"We believe a sniper fired the shot, it wasn't the young people ... The only people who were armed were the police and riot police," his colleague Ileana Lacayo told television station Canal 15.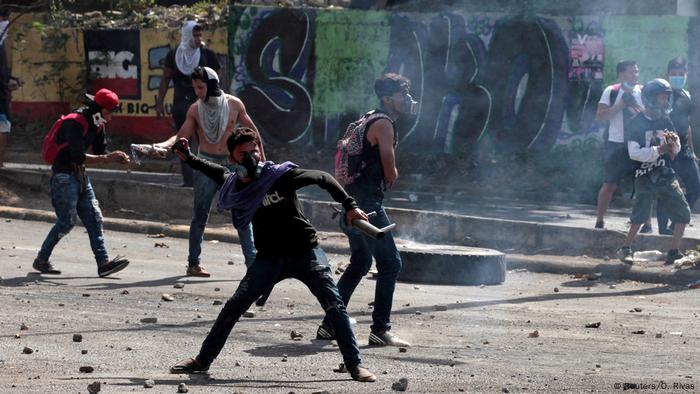 The biggest protests have taken place in the capital, Managua
Authorities have, however, blamed the attack on what they call "criminal rights groups."
The protests come after the government issued a decree calling for increases in income and payroll taxes, as well as changes to the pension system to shore up Nicaragua's troubled social security system.
Ortega defiant
President Daniel Ortega, who issued the decree, has made no apologies for his government's deadly response to the demonstrations. In his first public appearance Saturday since the violence erupted, he said he was open to talks over the dispute.
Ortega said during a nationally broadcast televised address that he wanted the talks so there would be "no more terror for Nicaraguan families." The former Marxist guerrilla has accused the United States of fomenting public dissent.
Read more: Ortega wins third straight election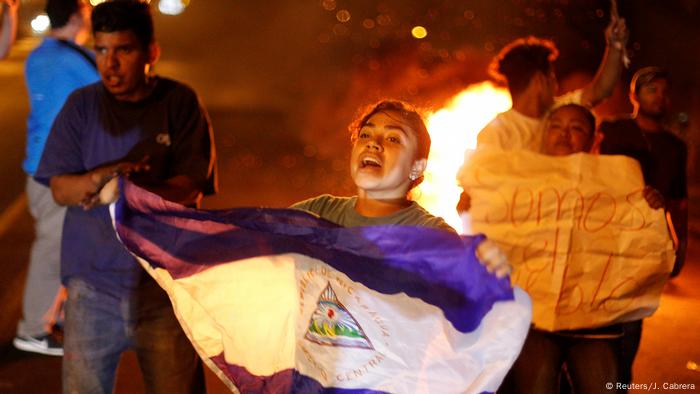 Protesters oppose President Ortega's pension reforms
But Ortega said he would only discuss the issue with business leaders. He noted that the decree goes into effect July 1, and said there is time to reconsider it.
"We'll have to see what change can be made to this decree or whether we need to do a new one," he said during the televised address. "Hopefully, we can find a better way of making this change."
Conditions for talks
COSEP, a private sector business lobby, quickly put conditions on any talks with Ortega. The group said talks could not begin until the government ended police violence, released those who had been arrested for demonstrating peacefully, and re-established freedom of speech.
"We urge the government to create these conditions immediately to avoid more bloodshed," COSEP said. "We cannot go into a dialogue if these minimal conditions are not met."
Nicaragua's Roman Catholic Conference of Bishops condemned the government's violent crackdown and called on the president to drop the social security reforms.
In a statement, the conference said: "A unilateral decision always brings with it social instability. Rectifying decisions is a sign of humanity, listening is the path of reason, seeking peace at all cost is wisdom."
Read more: Nicaragua joins Paris Accord
tj, bik/ng (AP, Reuters, AFP)
Each evening at 1830 UTC, DW's editors send out a selection of the day's hard news and quality feature journalism. You can sign up to receive it directly here.