For the last five years, Manubhan, 18, and his brother Pramod, 16, have been up at the crack of dawn heading for houses and restaurants to collect recyclable items. They venture into dumps, streets, and buildings to find refuse to sell. Both have cuts and abrasions on their hands.
Hazardous and filthy work conditions
The two brothers have not had the chance to attend school. They are part of a loosely knit coalition of 200,000 waste pickers and recyclers in the city who earn a pittance of a little more than four US dollars a day to keep the home fires burning. Now they, like many others, are worried that their days of waste picking could well be numbered.
The city authorities of New Delhi have approved the construction of three garbage incinerators in a plan to get private firms to collect and dispose of garbage. But the plans pose a direct threat to the informal recycling sector.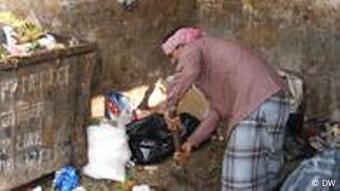 Ramakant Khushwaha suffers from scabies after working over 20 years as a ragpicker
"Our livelihood is being taken away and thousands of people will suffer losses....if they burn the garbage then we can't earn money...where will our daily meals come from…how will we eat?" rues Manubhan.
"Our work is environmentally friendly but these burning places will take away our jobs," adds his brother.
At another end of the city, 43-year-old Ramakant Khushwaha rummages through filthy garbage at a landfill while keeping at bay stray dogs. He suffers from scabies after working over 20 years in this job.
"I don't know what will happen to my family if I lose this job. This is all I know," he exclaims.
Delhi – a big rubbish producer
The capital is well known for being the largest producer of municipal solid waste in India, generating almost 8,000 tonnes on a daily basis. As much as 15-20 percent of the garbage is recyclable.
While the government sees the incinerators as a way to deal with the waste, there is criticism of the new scheme.
"Plants such as these are highly polluting. They have been junked all over the world for being a hazard to public health. Past efforts at generating electricity from waste have ended in dismal failure," says Gopal Krishna of Toxics Watch Alliance, an environmental NGO.
He maintains that Indian garbage lacks the calorific content required for producing electricity and believes the government should not make the ragpickers jobless.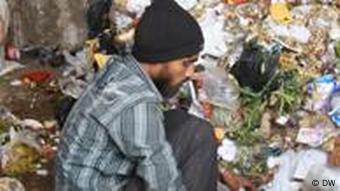 Many fear they will soon lose their income
"The authorities are viewing garbage as a source of income," said Sashi Bhushan Pandit, head of All-India Ragpickers' Association. "They just want to earn millions in carbon credits by destroying lives here."
Bleak future for waste pickers
In the run-up to last year's Commonwealth Games that were staged in Delhi, ragpickers were denied access to much of the rubbish upon which they depend.
In its drive to spruce up the capital for the showpiece event, the authorities awarded waste-collection contracts to private companies in six of its 12 zones. These firms dumped rubbish in inaccessible containers without any thought for recycling.
There are approximately 1.5 million waste pickers in India who are at the lowest rung of the occupational ladder and often the most marginalized. What will happen to them should the government move ahead with its plans is unknown as they often have no other alternatives for employment.
Author: Murali Krishnan
Editor: Sarah Berning