India has the dubious distinction of registering the highest number of road fatalities in the world, despite the fact that its population is much smaller than in neighboring China and there are more vehicles on US roads than in India.
Trucks, buses, cars and motorbikes vie for space on the country's roads and highways, which are crammed with bicycles, rickshaws and even bullock drays and hand-drawn carts. Hawkers on pavements often force pedestrians to walk on the roads.
Moreover, many motorbike riders do not wear helmets and the use of seat belts is much less prevalent than in developed countries.
Pedestrians, cyclists and bikers account for around 39 percent of the fatalities. Over half of all road victims are adults, aged between 25 and 65.
Huge increase in road fatalities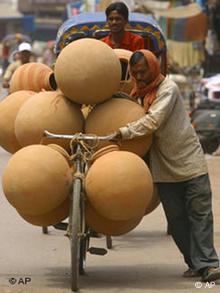 The roads of India are laden with all different types of vehicles
According to the National Crime Records Bureau, about 134,000 people died in road accidents last year, which witnessed a 28 percent increase as compared to 2008.
Experts predict that more than 150,000 Indians will die in traffic accidents before this year is out. Another three million are expected to be hospitalized.
"Every day nearly 3,500 people die on the roads worldwide," says K.K. Kapila, the chairperson of the International Road Federation. "In India, an accident occurs on the streets nearly every minute. It is an unacceptable price to pay for mobility."
"While developed countries through well planned road safety have succeeded in bringing down their accident rates, India's accident rate and fatalities are showing an increasing trend which is a matter of concern," a recent report from the road ministry reads.
Annual car sales are on the increase thanks to cheap models like the Tata Nano
A bleak future
However, the problem is only likely to worsen as the government pushes for expansion of road and rail network to fill up the infrastructural void. According to the Society of Indian Automobile Manufacturers, annual car sales are projected to increase to over five million vehicles by 2015 and more than nine million by 2020.
By 2050, the country is expected to top the world in car volumes with approximately 611 million vehicles on the nation's roads.
However, experts say many accidents could be avoided if there were more regulation and stricter punishment for infringing traffic laws.
A recent report released by Community against Drunken Driving - "Alcohol and Rising Incidents of Road Accident Fatalities - Recent Trends in India (2001-2010)" says that 70 percent of fatalities are due to drunk driving with accidents occurring mainly on India's unregulated highways.
"There are no uniform laws for drunken driving in India," deplores CADD founder Prince Singhal who has worked with students and administrations to spread awareness. "The fine needs to be high so that people think at least 10 times before opening a bottle of alcohol in their vehicles."
Only then will drunk driving be reduced and thus the number of accidents, say observers.
Author: Murali Krishnan
Editor: Anne Thomas