At first the story was only about fast cars, money and sex. More precisely it was about an accident involving a black Ferrari last March, about a dead playboy and two heavily injured young women who were either completely naked or scantily clad - no one knows for sure.

However, since word got out a few days ago about who was driving the car, the story has become political.
The driver who crashed the car was apparently the son of a high-ranking official named Ling Jihua - one of President Hu Jintao's closest allies. And that's apparently why it was kept quiet for so long.
'The party doesn't care'
Now it's out, the party's image, already rocked by scandal is under fire again.
"But adding one more scandal to all the others hardly makes any difference," says Zhang Ming, a political scientist at Renmin University in Beijing.

"The party's image is already bad but the party doesn't care. And the people have no way of stopping such things from happening."

However, the Ferrari accident has raised a number of questions. For example, how did Ling Jihua's playboy son have enough money to be able to afford such an expensive sports car in the first place?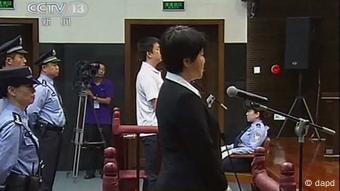 Gu Kailai was convicted for murder in August
"He, just like Bo Xilai's wife [who was recently sentenced for murder], has damaged the party's image," says Jin Zhong, the editor-in-chief of Hong Kong's Kaifeng newspaper.
"People like this are taking advantage of their privileges, making illegal profits. It happens all the time. Gu Kailai to Ling Jihua are only the tip of the iceberg. Stories like this are creating resentment both within and outside of the party."
Change of leadership

And the Ferrari incident has already had political repercussions. Ling Jihua, who was considered a shooting star, just lost his influential post as head of the Central Committee's General Office and was demoted unexpectedly.
He was replaced by Li Zhanshu, thought to be a close ally of the "princeling" of Chinese politics, Vice-President Xi Jinping.
"It is quite possible that Xi Jinping wanted to get rid of Hu Jintao's oldest confidant," says Jin Zhong. "And because the son was involved in the incident, he was able to depose him immediately."
Observers say that wiithout his cabinet secretary, President Hu Jintao, who has been reluctant to carry reforms, is much weaker. Reportedly, he was unable to bring in one of his cronies to fill the post.
After the 18th party congress this fall when he is due to leave office, he is likely to have considerable less power than his predecessors.