The garbage keeps piling up on the streets of Beirut, and power outages occur across the country on a daily basis: Actually, things in Lebanon are the way they have always been. But one thing has changed - the country has a president for the first time since May of 2014: Michel Aoun, 81 years old, former commander-in-chief of the Lebanese army, close ally of the Shiite Hezbollah and a friend of the Syrian regime of Bashar al-Assad. And Aoun is a Maronite Christian. Lebanon's political system is based on denominational proportionality, and dictates that a Christian lead the country, a Sunni serve as prime minister and a Shiite as parliamentary president.
"There is a certain amount of pride at having remained able to act in a very difficult regional situation, despite not having a president," says Bente Scheller, head of the Heinrich Böll Stiftung's Middle East Office, a political foundation affiliated with Germany's Green Party.
Filling the power vacuum in Lebanon - temporarily
Over the course of the last two and a half years, the Lebanese parliament held 45 votes in an attempt to find a successor to Michel Suleiman. Yet all of the votes failed because rival factions blocked one another: On one side, the Shiite Hezbollah and its ally the "March 8 Alliance," which is supported by Iran; on the other side, the pro-Western, Sunni-dominated "March 14 Alliance," which receives support from Saudi Arabia. Now, in a state of heightened security, Michel Aoun has been elected president. For Aoun, who spent 15 years exiled in France for his role in the Lebanese civil war, the election was the fulfillment of a long-held dream.
The election was made possible by a deal between Michel Aoun and Saad Hariri, who leads the strongest Sunni parliamentary party in the March 14 Alliance, the "Future Movement." Nevertheless, Middle East expert Scheller says that the deal was not the result of a wholly inner-Lebanese process. Rather, it was contingent upon the good will of important regional actors, such as Saudi Arabia and Iran. And apparently they consented to the deal.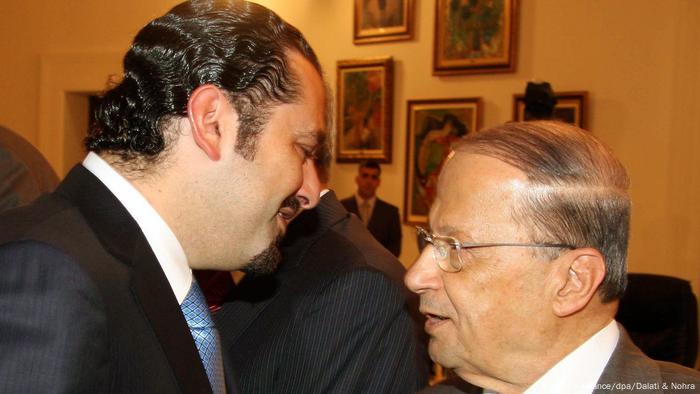 Lebanon's new president Michel Aoun (r.) hopes to revive a national dialogue with rivals like Saad Hariri (l.)
Days before the election it became known that Hariri, who served as prime minister from 2009 to 2011, had backed away from his declared principles and would see to it that Aoun emerge as the election victor. In return, Aoun will soon name Hariri prime minister, at which point he will put together a government. Work in the current government has been repeatedly halted by differences of opinion over the last two years.
The deal will bring these belligerent alliances closer together (for now). Yet Hariri's decision to loudly and publicly endorse Aoun carries personal and political risks. Aoun is extremely disliked by Hariri's Sunni supporters, and his election may be seen as a victory for Hezbollah and its role in Syria. Hariri's party colleagues fear that Iranian Shiite influence could increase, leading to a disruption of the country's fragile balance of power.
But it is the Syria question, more than any, that highlights the divide in opinion between Hariri and his arch-enemy, Hezbollah leader Hassan Nasrallah: Hariri, a Sunni, wants the Shiite Hezbollah to get out of the war in neighboring Syria and turn over its weapons. Moreover, Saad Hariri accuses Hezbollah of having been involved in the 2005 murder of his father Rafik Hariri. A special tribunal is investigating the allegation. It is uncertain how President Michel Aoun will react to the situation now that he is partnered with Hariri, yet remains a friend of Hezbollah. Political players, however, are determined not to let the conflict in Syria spill over into Lebanon, says Bente Scheller.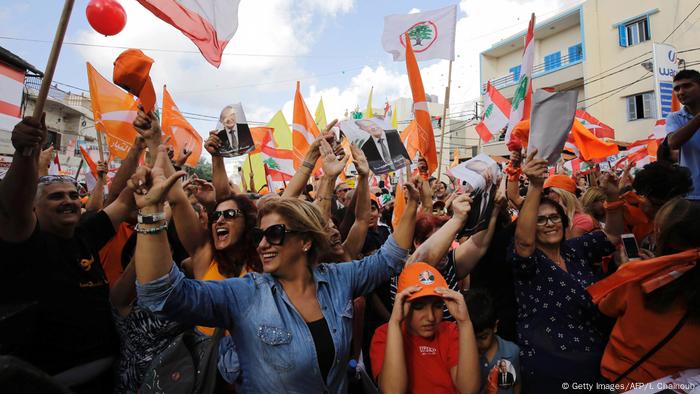 Supporters of Michel Aoun, Maronite Christians, celebrated his appointment as president
Against Syrian refugees
That is an issue that will no doubt be a priority for former commander-in-chief of the army Aoun. Observers in Lebanon think Aoun will concentrate on finding the right person to head the army - further, immediately after his election, Aoun announced a tougher course of action against refugees. A solution to the Syria crisis, he said, must also mean that Syrian refugees return home.
His supporters see him as a defender of Lebanese Christians who can restore people's faith in politics and its institutions. Others are skeptical, since Aoun has been part of the political scene for years and is someone who has profited from a corrupt system.
When President Aoun names Saad Hariri prime minister, the country's future will depend on how the new cabinet comes together, and whether it can really bring forth problem-solving initiatives and then implement them. "Hence the presidential election is just the first step on a long journey with an uncertain outcome," says Middle East expert Bente Scheller.