The deaths of the prisoners – including Ulrike Meinhof, who hanged hereself on May 9, 1976, and Andreas Baader, Gudrun Ensslin and Jan-Carl Raspe, who are said to have committed suicide in a high-security block during the night of Oct. 18, 1977, became known as Death Night for the leaders of the Red Army Faction.
These were among the events collectively known as the German Autumn, which also included a series of terrorist attacks and the West German government's response.
Debate over suicides
According to a report in the Stuttgarter Zeitung on Tuesday, Aug. 5, the pictures include images of the abduction of leading RAF terrorists Baader, Ensslin and Raspe, as well as the emergency operation performed on Irmgard Moeller, who tried to kill herself by stabbing herself four times in the chest.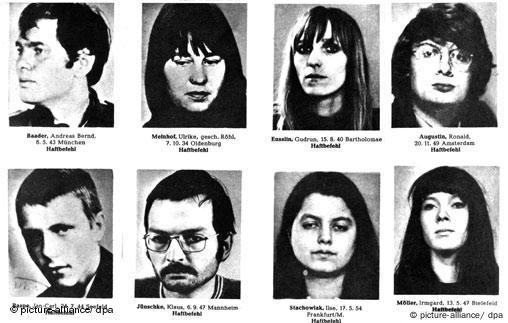 Germany sought the terrorists with 'Wanted' posters
She survived her suicide attempt and has since stated that the deaths were not suicide, but rather extrajudicial killings undertaken by the German government of the time, a claim strongly denied by German governments, former and present.
Photos show "nothing new"
The pictures were discovered in a suitcase in the basement of a house a week ago, and had been taken by a long-deceased police photographer. Now they have been given to the Stuttgart prosecutor's office for further examination, a spokeswoman for the investigators confirmed.
On first look, the photos don't show anything new, the spokeswoman said.
"Possibly, a few well-known pictures are shown again from a different angle," she added.
The newspaper further reported that the pictures were mostly taken to be used in the so-called Stammheim Deaths Trial. The files of the hotly debated trial were sent to the state archive in Ludwigsburg in 2005, but a few months ago were retrieved by the Stuttgart prosecutors' office.
Prosecutor: new look at case unlikely
Now they are checking whether new investigations will be made into the politically explosive case.
Two of the RAF leaders, Ensslin and Baader
The spokeswoman for the prosecutors' office said the files had been moved for space reasons. When the media began reporting last year that security officers may have allowed the suicides to happen, investigators sought the files out again – "a completely normal thing to do."
However, she said there are no indications pointing to a new look into the events of the autumn of 1977.