On Sunday, Pakistani Prime Minister Imran Khan announced a plan to offer citizenship to Afghan and Bangladeshi refugees who were born in Pakistan.
Khan told local media that Pakistan would will give passports and IDs to Afghans whose children have been raised in Pakistan and who were born there.
"We will also give them citizenship," said Khan.
If Khan's statement is translated to policy, around 1.5 million Afghans living in Pakistan would be granted Pakistani citizenship, Afghan minister of Refugees and Repatriations, Sayed Balkhi, told DW.
According government estimates, around 2.7 million Afghans live in Pakistan. Most of these refugees fled their country after the Soviet Union invaded Afghanistan in 1979. Since then, they have opened businesses, raised families and bought property in their new home, Pakistan.
"I came to Pakistan 40 years ago with only six family members. Now my family has grown to 55 people," Malik Matiullah, a Peshawar-based Afghan refugee, told DW. "At least 49 of us could become Pakistani citizens," he added.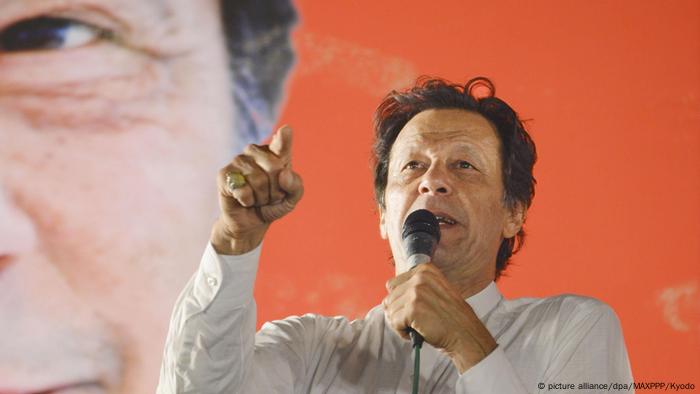 Rights groups welcomed PM Khan's citizenship announcement
A message of relief
The move could put and end to the long uncertainty over the future of Afghan refugees in Pakistan. The refugee issue has often been used by Islamabad as a tool to put pressure on Kabul each time tensions between the two neighbors rise.
Afghans living in Pakistan have especially faced a tougher stance from their host in recent years. Tense relations between Kabul and Islamabad have erupted with both sides blaming the other of providing sanctuaries for militants who carry out attacks on the other side of the border.
"Whenever the two governments are not on good terms we face the consequences," Matiatullah said, adding that getting Pakistani identification documents will provide them with the certainty they have long been seeking.
Islamabad has set many deadlines to expel all Afghan refugees, with the most recent one expiring on September 30.
"If we get Pakistani citizenship, the police and army will not longer create problems for us and we will be able do business and live in peace," the Afghan refugee said.
Khan's proposal could also provide relief to the Afghan government in Kabul, which deals with hundred of thousands of refugees returning from Iran and Pakistan each year, despite deteriorating security and a weak economy. Afghan diplomat Abdul Hamid Jalili believes that Pakistan could also benefit from the move.
"The Pakistani economy could suffer if Afghan business owners take their money back to their country. This move would prevent such a scenario," Jalili told DW.
Read more: Population census exposes Pakistan's harsh realities
Good news with unclear details
According to Afrasiab Khattak, a senior member of Pakistan's Awami National Party and a former senator, Khan's plan could ease tensions between Kabul and Islamabad while paving the way for more cooperation.
"Kabul has had complains about the treatment of Afghan refugees in Pakistan. Khan's plan could address those concerns," Khattak told DW. "But we have to wait and see how the plan is implemented," he added.
There are many questions about whether Khan will actually turn his statements into policy, as many details remain unclear.
What will happen to the parents of Afghan refugees born in Pakistan? How will the plan be implemented in tribal areas of Pakistan? Will the plan get any domestic support?
Read more: Why Pakistan associates terrorism with Pashtuns and Afghans
It is also unclear if Afghan refugees will be allowed to continue to retain their Afghan citizenship too.
Pakistan's citizenship laws state that any child born in the country is eligible for citizenship, according to Khattak whose Awami National Party long campaigned for better integration of Afghan refugees.
"Only citizens of enemy states [of Pakistan] and the children of Pakistan-based diplomats are exceptions to the law," added Khattak.
How Khan will implement the law in regards to Afghan refugees, he said, depends on the current government's political will.
Read more: Pakistan to deport 'Afghan Girl' for obtaining fake ID card
Sayed Riaz and Shakila Ibrahimkhail contributed to this report.