Holding his four-month-old son, Ali Rafed stood in the new Diavata refugee camp just outside Thessaloniki and joked about his bad luck with timing.
"I had just five exams left to graduate my university when IS attacked my city," said the Mosul native. "Then [on Monday] I was in Idomeni, standing in line to cross into Macedonia, when the big riot happened."
"Now I don't know when we'll pass," he laughed, briefly.
Rafed is one of more than 16,000 people staying in camps throughout northern Greece after Macedonian border police reduced the number of daily crossings to 50-250 per day, creating a bottleneck of asylum-seekers in the region.
In response, the Greek government has opened four more camps to accommodate those spilling over from the Idomeni border, where as 8,000 to 9,000 people have crowded into a camp designed to hold 2,500.
Located in Diavata, Kavala, Nea Karvali and Cherso, the new camps are hosting about 2,000 people each and the government, as well as, humanitarian aid groups are struggling to cope, said Alexandros Voulgaris, Idomeni team leader for the UNHCR.
"The math is not in our favor," said Voulgaris. "Thousands arrive to the islands every day and only a few hundred are allowed to enter Macedonia."
"We are doing our best to adapt, but I won't lie, it's difficult."
'No-star hotel' at the border
Built inside a security compound and operated by Greek military personnel, Diavata camp opened last week as a temporary solution to what may become a long-term problem for Greece if the European Union does not act to assist the nation that has receives majority of people seeking asylum from nations of war and economic insecurity.
Concerned for the safety of his family, Rafed said he would stay in Diavata until the situation calms down at the border.
"Between here and the border, it's a huge difference," Rafed said. "Like a five-star hotel and a no-star hotel."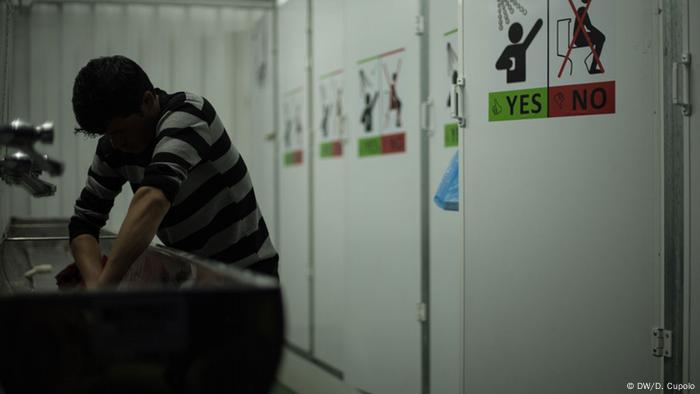 The new camps are a great improvement over the border area, despite overcrowding
Ibrahim Belko, Syrian Kurd from Aleppo, echoed the same rationale, saying Diavata was the best place to stay after passing the last week and a half ricocheting between all five camps.
"There are too many people at the border," Belko said "It's crazy. You stand in the breakfast line and get out by dinner time."
Belko said the tension in Idomeni overwhelmed his mother, who suffered a heart attack when they were denied entry to Macedonia due to a discrepancy between the birth dates on their passports and the birth dates on the documents they were issued by Greek authorities in Lesbos.
According to the UNHCR's Voulgaris, mismatched birth dates, along with variations in the spellings of Arabic names, are causing an increased number people to be turned away at the Macedonian border, despite their eligibility for passage.
Conflict between Syrians and Afghans
Greater scrutiny of documents, along with recent riots, have only further aggravated asylum-seekers in Greece, who increasingly turn their frustrations on each other - particularly Syrians and Afghans. As space becomes limited, the two groups have begun blaming one another for their collective problems, such as theft and general squalor in the camps.
When talking to Syrian refugees, it is not uncommon to be asked why Afghans are leaving their country.
"Afghans have no war in their country, we are the ones with war," Belko said.
"Syrians they hate us," said Hamideh Ghazizadeh, an Afghan student traveling with her family. "They think going to Europe is their right, but not ours. We both come from war countries and we are both human beings."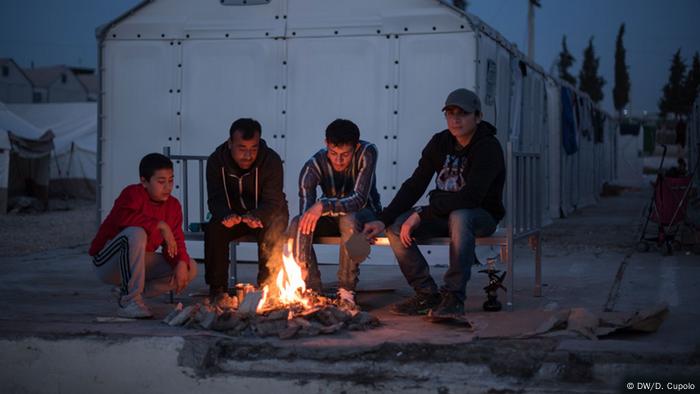 Some refugees are finding relief in the new camps
Separating asylum-seekers into smaller camps, away from the ill-suited border area, has been having a positive effect on reducing conflicts. Voulgaris said people were easier to manage and more receptive to information regarding their asylum options when they were housed in better-organized camps.
"Information is the most important because information keeps them calm," he said. "If they have a safe place to stay, with proper services, they are more willing to wait for the border to open. The smaller camps are less stressful and allow them to get more information, which leads to better decisions."
Relief in new camps
The better conditions in Diavata have also brought relief to refugees with varying health problems. Jamal Rasheed, a mechanic from Idlib, Syria, said two of his vertebrates were out of line and a bone in his hand was broken after suffering months of torture at the hands of Syrian government forces.
"I cannot sleep on the ground," Rasheed said. "I can barely walk. My sons have to help me."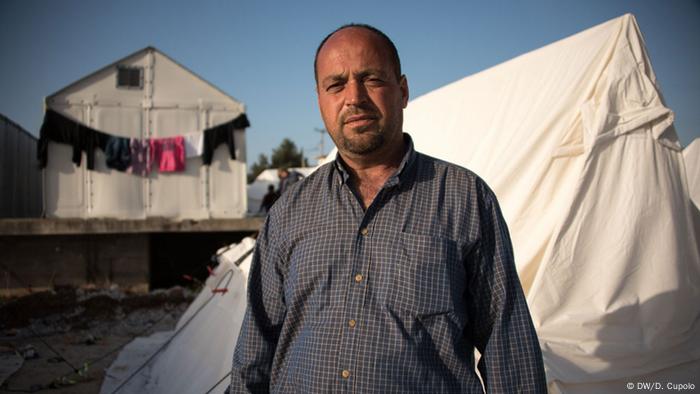 Jamal Ramsheed appreciates being able to sleep in peace since leaving Syria
Rasheed explained the effect of the war on his family, as his eldest son lingered nearby, mumbling to himself with an absent stare towards the ground.
"Look at him, he lost his mind," Rasheed said. "Four years ago, he was normal, like you and me, but when I was taken by the government, he would get calls every day about how and where they were going to kill me. He hasn't recovered."
And yet, despite the hardship in Syria and the unpredictable border situation with Macedonia, Rasheed says he finally feels at ease. He said he would apply for relocation through the EU if the border didn't open. When a commercial plane passed overhead, he smiled.
"We used to worry when we slept at night," he said. "Now we can sleep without waking up every time we hear a plane. Now we are free."