Germany's largest legal neo-Nazi concert of the year went off peacefully on Saturday evening, police said.
It was held in a field inside a tent large enough to accommodate 5,000 people on the edge of the town with 3,000 residents. Several roads were blocked and checkpoints erected to control visitors' movements and the grounds of the festival were enlarged to accomdate extra visitors.
Police said almost 6,000 people attended concert and it was largely without incident.
More than 20 illegal incidents were reported, mostly of illegal displays of "symbols of unconstitutional organizations" (including Nazi symbols), as well as eight incidents of criminal property damage, illegal drug use and verbal abuse, all committed under the influence of alcohol, police said.
Anti Nazi group Endstation Rechts posted images of Nazi supporters, including people wearing logos of banned organizations.
Before entering the concert grounds, which were gated off by high metal fencing, the event's attendees were searched by police.
Many musical styles appropriated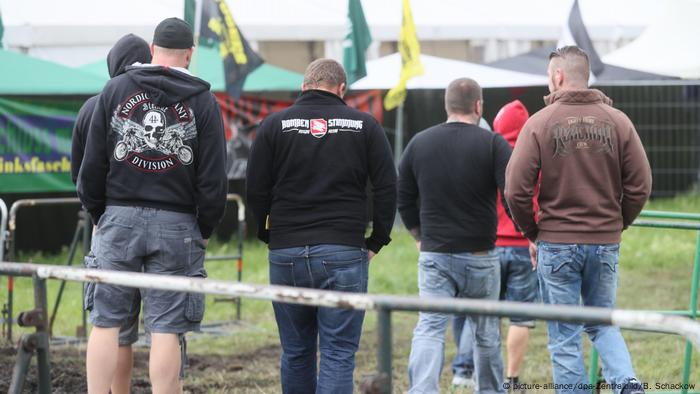 Neo-Nazis head for the boggy concert
Around a thousand police from the eastern state of Thuringia, where Themar is situated, and other German states were deployed at the event to prevent clashes between concertgoers and counterdemonstrators.
Some wore T-shirts bearing the words "The Storming of Themar" and "Free as a bird."
For far-right groups, music has become a key means of propaganda, and the number of bands and concerts has increased in recent years. There are right-wing extremist songwriters, Nazi hip-hop and heavy metal, and most modern styles of music have been used.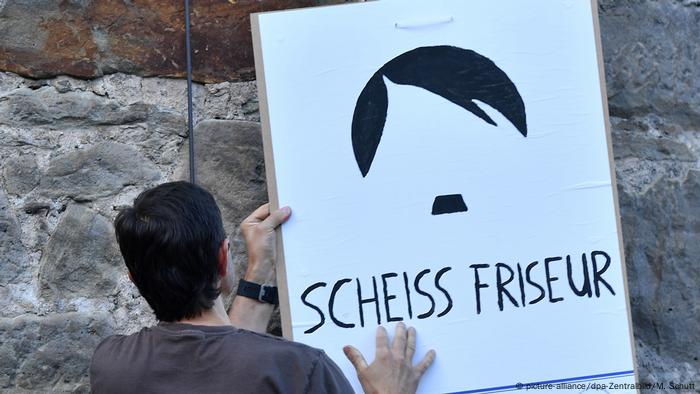 "Lousy hairdresser" says this protester's placard
Counterdemonstrations
Although citizens' initiatives, churches and private individuals had called for a protest, Themar was generally quiet, while only several hundred of the 2,000 registered non-local counterprotesters arrived for the event.
Last year, according to the German government, at least 205 right-wing extremist music events took place in Germany, including 78 concerts.
The rise of neo-Nazis in Germany has been strongest in the eastern part of the country,the former communist East Germany, which was known as the German Democratic Republic.
aw, jbh/jm (epd, dpa)