The small town of Nauen, barely a 15 minute journey outside Berlin, has become the latest picturesque German settlement to have its designated refugee shelter destroyed by fire. In total, 16 fire trucks were called to a local sports center at 2:30 a.m. on Tuesday after an internal alarm was set off, only for firefighters to decide that the blaze was so far gone that the best option was to contain it and let the place burn down. While the cause of the fire hasn't yet been confirmed and investigations remain underway, many locals believe it was a deliberate act.
Some 130 asylum seekers were due to be moved there in the coming days. Police captain Swen Schäfer, milling around among a cluster of other officers and firefighters, observed ruefully that the only mercy was that the beds had not yet been delivered. There had been no security on hand overnight, even though some observed that the circumstances practically invited an attack - the destroyed center was a few hundred meters from any residential blocks, the road practically unused at night, and Nauen has seen ugly far-right incidents in the past few months - not to mention the precedent set by recent arson attacks on other German refugee shelters.
This time there was one difference though. Since the suspected arson attack was on a public building used by local clubs, this is also being felt as an attack on the community. On Tuesday morning, various locals wandered all the way up the long road lined with warehouses to stare in disbelief at the empty black ruin at the far end. "I can't understand why anyone would do this at all," said one man.
Earlier, local politicians had been on the scene to issue their slightly redundant condemnations to the assembled TV crews. "If they are arsonists, then for me they are criminals," was the quote delivered by Nauen's mayor Detlef Fleischmann, while Brandenburg State Premier Dietmar Woidke called the incident "shameful for our state."
'Over our heads'
Maria Budka, a warehouse worker who lived in Nauen for several years, looked especially disconsolate as she gazed at the shell of a center that had been built in 2011, at a cost of 4 million euros ($4.6 million), and was only meant to be a temporary shelter for the refugees.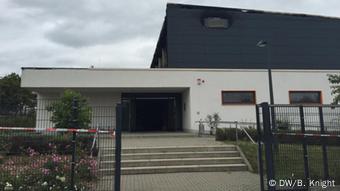 There were no security officers protecting the planned Nauen refugee shelter
"There was just this strange little barracks here before it was built," Budka told DW. "I think it's a shame that they burnt it down, because it's hardly been here four years. I mean, local kids played in here."
Budka also had a lot to say about why this had happened in the first place. Like many people in Germany, she feels like the government is shunting refugees to various regions without ever making clear why. "People have different opinions when it comes to letting in refugees," she continued. "In moderation it's good, but in masses it becomes difficult, because the government is making decisions over our heads. We, the people, aren't being asked."
"I mean, I can see both sides. On the one hand I can understand why people are annoyed, and that they react like this," she said. "On the other hand it's s--t what these far-right people do here."
New initiative
In fact, it's not quite true that the people of Nauen have been excluded from the government's plans to bring refugees into town. But efforts to set up a discussion were scuppered by a far-right contingent. A public town hall meeting had to be aborted in February after protesters disrupted the proceedings.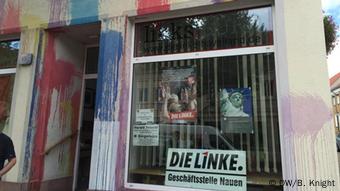 The local Left party headquarters was vandalized
It was witnessed by Anke Bienwald, a member of the refugee initiative Nauen für Menschlichkeit ("Nauen for Humanity"), one of a number of local pro-asylum initiatives that last week bundled their energies into one umbrella organization.
"It was used as an opportunity to stage a massive demonstration against refugees," she told DW. "It was a very threatening situation which ended with the room having to be cleared. You couldn't talk constructively anymore." The offices of left-wing parties in the area have also had their windows smashed and paint thrown over their facades.
"There are hardly any refugees in Nauen, and then when suddenly more come then of course there is a fear of outsiders," Bienwald said. "I think it's completely legitimate to have questions, and I think it's important that we talk about what is happening," she said. "But there were people there who exploited these fears and stirred things up."
At his press conference, Woidke was keen to point out that there were plenty of initiatives like Bienwald's in Nauen. Some of these gathered on Tuesday afternoon, along with representatives of political parties, at the Left party's local headquarters, to discuss what was to be done next.
"It doesn't just affect refugees," said Bienwald of the destroyed sports center. "But also locals, because they use it - I think it's an attack on everyone, and I think that's the most shocking thing," she added.